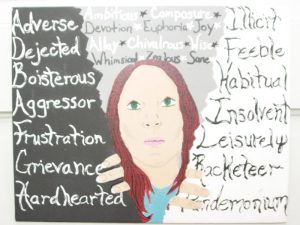 Cornerstone, the alcohol and drug abuse treatment center, and Artemis, the store/coop under the blue awning on the square in Edgefield, are partnering to present "The Art of Recovery" during the month of September.
This exciting art exhibit highlights the journey from addiction to recovery as told by those who experience it firsthand. Local artists, persons in recovery, family members/friends of those in recovery, and treatment professionals will all share their stories of recovery through various art mediums.
Teresa Roy, Director of Community Outreach of Cornerstone, writes her interpretation of Art of Recovery:
The idea for the Art of Recovery show came out of a desire to put a human face on this sometimes vague concept of addiction– to show that addiction doesn't care who you are, or what type of house you live it, but that it can destroy lives and impact society at every level. The exhibit has some darker pieces that show the struggles, fear, and anger that are a part of the journey as well as pieces that represent an attainment of some inner peace and daily practice of recovery.  The part of addiction and recovery that is often not seen by the general public is the hard work that goes into getting to sobriety and then the daily work to maintain recovery– this is one way that we can celebrate the hope and possibilities of true recovery.
The invitation is to all interested persons to visit the exhibit they have hung for the public on Thursday, September 13, from 5:30-7:30 p.m., at Artemis for an opening reception.
If you would like to submit artwork or want more information about this exhibit, please contact Teresa Roy at Cornerstone at 864-227-1001.