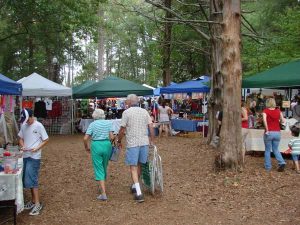 The Edgefield Heritage Jubilee, famous for its interesting vendors, delectable barbecue, giant puffy blow-up castles in a setting that represents part of Edgefield's heritage – Oakley Park Museum and Grounds – will open on Friday evening, October 5. Vendors, great musicians, and a chance to taste some of the barbecue and other foods that will be on parade the next day await the Friday night festival attendees.
Vendors can still sign up to bring their crafts, wares, and foods for sale both Friday night and Saturday all day. To do so call 275-7404 OR 637-1900 or email joel@edgefieldfuel.com.
This is a wonderful day for reuniting with friends and family under the shade of magnolias, cedars, oaks and pines in the park of one of Edgefield's famous house-museums, available for tours that day also.