Friday & Saturday: 6:00 p.m. – 10:00 p.m.                                                  1750 Garrett Road
Lacantinaclarkshill.com                                                                                                            Clarks Hill, SC
Reservations Suggested                                                 864-333-5315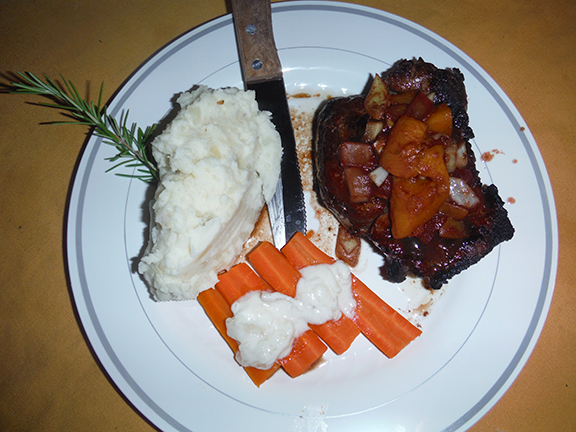 Well, it happened.  It finally happened.  We knew it would.  It was just a matter of time.  But who would have thought that it would happen in a little ol' place set back in the woods of McCormick County?  What has happened, you query?  The Culinary Critics have had their socks blown off, that's what!  Not just our socks, either.   Our socks, our taste buds, our minds were blown away!  And it all happened at La Cantina.
La Cantina is truly set back in the woods right over the McCormick County line.  You don't just happen upon this little restaurant.  You're either lost or have reservations when you show up.  It is so unassuming, that if not for the sign bearing its name and an arrow pointing directly to it, one might drive by and think it just another house on the far end of Garrett Road.  In fact, it was once home to a relative of now owners Laura (La La Buchanan) and husband Rusty Lindberg.  However, the pair has converted the old dwelling into a rustic, shabby chic dining wonderland.
A veranda holding mix matched patio furniture and wooden tables that bear various table cloths and interesting table lamps greets visitors as they arrive.  This area is able to seat about 40 people comfortably and has a small stage area as well.  Inside the restaurant are two cozy dining rooms, each holding between 3-5 tables.  An ornate wooden bar carved by Rusty himself, a true master carpenter among other things, serves to draw the eye in the first room.  Another hand carved piece, a large wine rack with a risqué woman carved in front, as well as another small stage area occupy the adjoining dining area.  And then there are the puppets, also creations by Rusty.  Two the size of small children sit waiting to greet – or terrorize, which ever the case may be – visitors as they walk through the front door.  And in the corner of the second room a larger, life-size woman sits – or lurks – in the corner; she being made of paper mache.  So real looking is she, we were told she is often strapped into the car and used as a traveling partner when La La travels alone.  These puppets are not just decorations, however.  They are part of Rusty's show, but we will get to more of that in a bit.  We mention them just so no one can say they were unaware.  If you have a thing against puppets, and let's face it, some of us do, you need know what you are walking into.  In fact, we have a friend who is so afraid of dolls and the like, that we joked she would never be able to make it through the front door.  La La and Rusty agreed that they have had such diners before.  So if this is you, just sit outside – don't go through the Hobbit door!
Being only open Friday and Saturday evenings, the Culinary Critics visited La Cantina on a Saturday.  Our reservation was at 6:00, and we arrived pretty much on the dot.  We hesitantly walked down the grassy walk toward the veranda not quite sure what lay in store for us.  But as soon as we go to the outdoor eating area, out burst a tiny little woman from the main house who immediately engulfed us in a big hug.  One of us remarked later that you know you're in the right place when you get greeted with a hug!  Given a quick tour and told we were free to choose where we sat, we chose to sit outside.  The character there was so appealing, and we were told the wooden table we chose was actually the first ever built by Rusty.  Honestly, though, the character alone was not what drew us to the veranda.  A volcano looking oven set to the far side in which much of the food is cooked captivated at least one of us as soon as we got there.  "We gotta get one of those," he repeatedly commented throughout the evening.  It was very neat to watch the food being cooked in the kiln type oven.  Who knew steaks could be fully cooked in about 45 seconds total?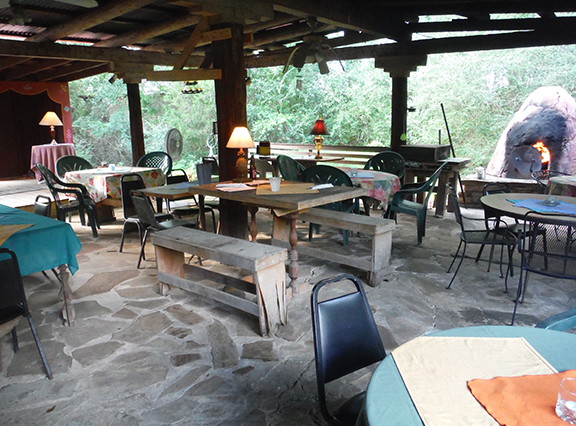 The name La Cantina is a little bit misleading.  This is not a Mexican restaurant.  In fact, the food is more of a Mediterranean style with a lot of fruit, veggies, and light sauces.  Menu offerings the night we dined included such things as salmon, lamb, pork, seafood and fish, steak, and chicken.  We began our meal with an appetizer of La Cantina Pico de Gallo.  Served with tortilla chips, it is described on the menu as being a house blend of mango, peppers, onions, and tomato with a house spice blend.  One taste of it produced the remark, "How cool!"  It was a great blend of sweet and spicy flavors.  It does have a bit of a kick, and while the fairer taste buds of our pair did thoroughly enjoy it, she did have to back off a bit so as not to over tax her tongue.  Meals come with a salad (and if we had realized that, we may not have ordered the appetizer.  But then, we would have missed out on a wonderful treat.)  The salads were prepared with fresh, crisp lettuce, ribbons of carrots and pieces of mango and tomato and drizzled with what our very friendly server described as a cross between Thousand Island and Ranch dressings.  And she was right – that is exactly how the dressing tasted.  The salads were delicious.  A bit before our meals were served, we were brought a long basket filled with sliced Italian type bread and butter.  The bread was so soft and tasty, but what really impressed us what the amount of butter served with it.  A heaping good helping!  No skimping here.
For our meals, we ordered Calipso Chicken and the special for the evening, Filet Mignon.  The chicken dish is described as a chicken breast stuffed with borsine (their spelling, not mine) cheese encrusted with spiced almond and served over pasta with Old World house red sauce.  The Filet Mignon is described as a Horno seared 8 oz. filet served with a reduced cabernet sauvignon and beef demi glace sauce.  (Got your taste buds tingling, didn't we?)  It doesn't matter how the menu describes them, though.  They are simply delicious!  When the dishes were delivered, the chicken, quite frankly, looked like a mound of bread crumbs.  "What did you order?" one of us asked the other.  "That's the chicken," the other advised, adding, "Watch."  And then, as the cutting open of the big round blob commenced, out oozed luscious tasty cheese.  "Ooo," the other remarked, "I gotta get a picture of that!"  Sometimes food can be so beautifully prepared, but then the taste will not match the aesthetics.  This was not the case.  The food was lovely on the plate but even better in the mouth.  Such rich, full flavors!  Simply amazing!  The steak was ordered medium rare and was cooked to perfection.  Charred, tender, and about twice the size of filet mignons served as most establishments, it was divine.  The steak also came with a side of mashed potatoes that were equally great, and both dishes had a side of cooked, sweet carrots covered in a light, tasty sauce.  Thinking it couldn't possibly get any better, we ordered dessert.  The offerings for the evening were a little ditty called Death by Chocolate and various cheesecake slices.  By flip of a coin, it was decided we would have the Death by Chocolate.  Hey, if you gotta go, why not let it be by chocolate.  This turned out to be a huge slice of chocolate cake with a thick layer of whipped chocolate icing drizzled in chocolate syrup and white chocolate and embellished with a chocolate covered strawberry.  Yep, it is a wonder we survived.  How either of us even walked out of that place is still a mystery.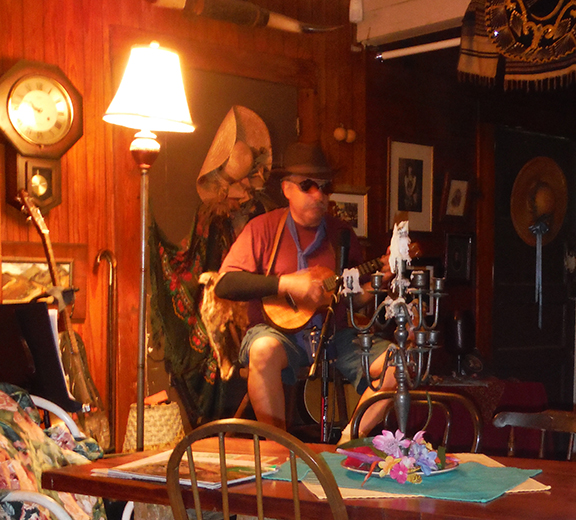 La Cantina is more than just a place to get good food, though.  Stick around for a bit after Rusty freshens up from cooking at that volcano, and you get treated to a show.  The show, we were told, is basically a smaller version of full shows Rusty does throughout the year over the Southeast.  A talented ventriloquist and gifted guitar player, he delights diners with his one man show.  The night we ate at La Cantina, Rusty was suffering a bit from a sore hip and thus was unable to do his ventriloquist act.  Haven't yet decided if that was a good or bad thing.  Those dummies did look a little freaky, but we were curious to see them come to life.  Instead of meeting his wooden friends, we were treated to various selections from the '20-'40s which Rusty both sang and played.  It was a delight, and a truly unique experience.  Performed on the smaller stage in the inside dining area, Rusty strummed, picked, and sang tunes unknown but memorable.  There was toe tapping and smiles abounding.  Maybe next time we can meet those two crazy fellas that sit by the door.
Dishes at La Cantina are as unique as the atmosphere.  However, we found them to be very reasonable compared to other such nicer establishments.  Appetizers ranged from around $7-$9.  Entrees ranged from about $18-$27.  The special of the night was under $25.  Our meal, including drinks and a tip, was around $85.  There is no children's menu at La Cantina, and, honestly, most of the tastes are probably a bit mature for most little ones.  However, we were told that families do come, and children are welcomed.  They are even encouraged to play in the big yard while they wait.  Also, it must be noted that while La Cantina may serve fancy smancy food, it is very casual.  All of the diners were in casual attire.  No suit and tie or high heels required here.
We have decided that La Cantina is a wonderful date-night destination.  The mood on the veranda was very intimate and relaxed.  The night we were there, we had it all to ourselves as the patrons decided to dine inside.  One of us felt like we were at the beach while, for the other, the atmosphere evoked a feeling of being in the mountains.  Strategically placed fans helped to keep the area cool.  We were told it was not uncommon to see various forms of wildlife come near.  As we sat out there, a little hummingbird kept coming by to check on us.  La Cantina is the type of place you sit and soak it in.  If you are in a hurry, perhaps you should go somewhere else.  We got there at 6:00 and left a little before 9:30.  But we didn't even notice the hours passing, however, because we were having such a wonderful time.  In fact, one of us remarked that it was perhaps the best dining experience ever.
To say we loved our dining experience at la Cantina is an understatement.  The first comment made upon leaving was, "We're gonna need more forks."  In the end, La Cantina will get our highest rating, but the male of our pair noted that unofficially, "We're giving it five forks and a spoon."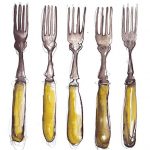 La Cantina rating – 5 Forks
Rating System: 0-5 Forks
0 forks – Not good at all; 1 fork – bad but might try again; 2 forks – fair; 3 forks – good; 4 forks – great; and 5 forks – excellent.