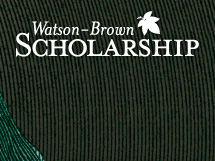 Thomson, GA, November 18, 2012:
  The Watson-Brown Foundation, Inc.,  helps make college dreams come true by awarding $3000 and $5000 renewable scholarships to high school seniors and current college undergraduates. The Foundation now is accepting scholarship applications for 2013-2014 awards.  One of the region's largest scholarship programs, the Foundation will award 200 new scholarships for 2013-2014.  To be eligible,  students must be from certain counties in Georgia and South Carolina and plan to attend any 4-year, accredited college in the country. The scholarship application deadline is February 15, 2013. Details, including the online application, may be found at 
www.watson-brown.org/scholarship
.
Watson-Brown Foundation, Inc. was established in 1970 by the late Walter J. Brown primarily as a college scholarship program. Watson-Brown is among Georgia's largest private foundations, with annual giving totaling more than $6 million. Currently, the Foundation funds over 800 students studying at 140 colleges and universities across the country.   In addition to its scholarship program, the Watson-Brown Foundation also operates three historic sites and house museums and maintains a grant program that funds historic preservation and programs in the humanities.
For more information, please contact Sarah Katherine Drury, Director of Scholarships and Alumni Relations at 
skdrury@watson-brown.org
 or 706-872-6972.