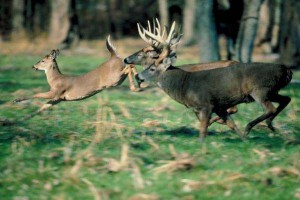 Tiffani Ireland –
A bill to clarify the South Carolina deer baiting law passed its second reading before the SC House of Representatives, Wednesday, Feb. 20, in a 97-8 vote.  It received its third reading the following day after which a favorable voice vote was recorded.  The bill, which now becomes know as an Act, will be sent to Gov. Nikki Haley for ratification.  It could become law as early as next week.
Rep. Bill Hixon, who serves on the SC House Wildlife Committee and voted in favor of the measure, spoke with The Advertiser on Friday, Feb. 22, regarding the bill's passage.  "I didn't realize it was going to be that big a margin," he said commenting on the overwhelming majority vote.  He went on to add, "The people have spoken."
The bill, which began its journey in the SC Senate on Jan. 8 from where it passed on to the House in a 22-15 vote, has received the support of the SC Department of Natural Resources although it is contradictory to their stance on deer baiting.  SCDNR remains opposed to deer baiting.  However, the agency supported the bill in an effort to bring clarification to the current law which contains a loophole that has left DNR law enforcement at a disadvantage when it comes to enforcing the law.
Under the new law, DNR will have clearly worded perimeters in which to work in order to enforce laws regarding deer hunting.  As pointed out in The Advertiser numerous times, even without this bill's passage, because of the gray area in the current law, deer baiting in SC was, for all intents and purposes, already legal in SC.
—
Previous Reporting:
Deer Baiting Bill Passes Full House Committee
Proposed Deer Baiting Bill Passed By SC Senate (Updated)
Deer Baiting in SC Clarified by Attorney General
Tiffani Ireland