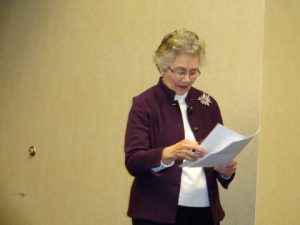 On Wednesday, March 13, about 20 club members and visitors heard Florence Crowder, from Louisiana and representing both the International Camellia and American Camellia Societies, speak of her journey to "merry old England" to search for old (pre-1900) camellias that no longer could be found in U.S. gardens, but which may have been here at one time.  Her search centered in the south of England, principally Cornwall and she was able to tell her audience that she had discovered a number of such plants.
Since undertaking her task some half dozen years ago, Ms. Crowder has determined that there were 467 registered pre-1900 camellias in the U.S., and that she has located about 365 and is determined to find the remaining plants, if they still exist.  Her mantra is "Preservation, Preservation, Preservation".  When she finds one of the new "old" ones, she makes certain that the genes are preserved by distributing the cuttings to four locations which include Magnolia Gardens and LSU's Burden Center. By placing the new clones in reputable gardens where they will be protected in case of threat by hurricane, tornado or meteor at one place there will be survivors somewhere else.
Ms. Crowder's tales of searching and finding camellias in England, and also stories of English breakfasts in Cornwall at Penrose B&B at Loswistle delighted her listeners and evoked in more than one a desire to travel abroad and view camellias in other places and settings. After eating the bag lunches brought by each listener, they finished with delightful brownies served with delicious coffee courtesy of John Gerrard, Discovery Center manager.