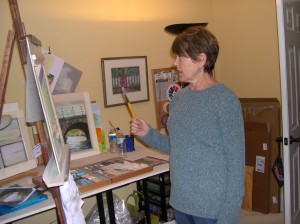 What does it take to be an artist? Does one have to just feel the role from years of experience; does one have to have exhibited and won awards, or does the passion for artistic endeavors put the person in the role?  This Mount Vintage resident, Carolyn Bohn, is an artist by all measures (above), but did not start that way.
In talking to Ms. Bohn — who is known in the county also for being the wife of Edgefield County Hospital Board member Dick Bohn — the steely wisdom of a businesswoman who made her way during those more difficult years for women, in the last century, emerges. It is so easy to dwell on her accomplishments in business and to seek to ply from her the how-to she used to create her successes – art could take a back seat.  No way!  The paintings surrounding the dialogue-setting interjected their colors and forms as well as the story behind each one.
This is the fun of the interview, hearing the stories that go with each production. The shining, framed tomatoes and bell peppers were from a visit (with her camera) to the Johnston Farmers Market; the painting of grey granite sheltering a pool of water (and greeting one on the stairwell) is nearby her home and a historic place according to an Edgefield historian; The doorway done in chalk pastel, which won an award, is from a trip to the Cotswold. And there are many marsh scenes, telling the story of her life in Savannah, where she lived at a prior time.
Most of these are executed in pastels – not all.  She also is accomplished in other media, but she loves pastels, and loves the boxes in her studio that hold the many worn pieces of what must have been straight and sturdy markers, smoothed to points and blunt ends now.  And the hues and tones must count into a thousand or more.
Carolyn is venturing into some interesting commissions that have come to her, one is for a book to be published by the Aiken Junior Women's Club.  (She once won an award for a painting she did of a downtown Aiken scene.)  She will execute a painting, in pastels, having to do with the Aiken County Historical Museum.  A second commission is for numerous paintings for an independent film.  It is called a "film short" which will "play for money," at a film festival, hoping to attract producers for the full-fledge film.  The story is set in Yemassee at a plantation, and the paintings are representative of what a 16-year-old girl is painting in the movie.
Ms. Bohn is a member of the Southeastern Pastel Society in Atlanta and Piedmont Pastel Society of Charlotte.  She has shown in Charlotte, and some of her paintings reside in Fabo, a coffee and art shop in Charlotte owned by her daughter.
As a member of the Aiken Artists Guild, she has shown many times at their center in Aiken. She is very active in the Guild and promotes Celebrate Creativity Day when participants can take classes, at a fee; the proceeds go toward a USCA scholarship.
Carolyn's many attributes include an ability to keep a sparkling house and to keep the looks of a movie star – she immediately reminds one of Annette Benning. Her smile is infectious and she humanizes the career aspects of the art life by talking about her "crummy" studio.  She made it so, however, by swapping a basement room for the planned studio in a light filled corner of an upper floor.  That is where the interview took place, where she has an office with the latest in digital equipment to enhance her work (and great books for reading, another of her passions). She paints only from her own photos, a practice she believes gives a painting authenticity, unlike that of the copyist.  Her values consider more than hue – one must make the painting all one's own.
Friends and readers will be looking for these authentic "snapshots" from her portfolio, many that give vibrancy to the landscape and objects of this very area. To see her works, try Aiken, Savannah, Charlotte and maybe the movies.