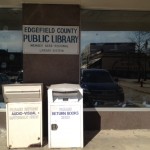 The Edgefield County Public Library will host a Cat in the Hat Party on Friday, March 2nd from 4:00 to 5:30pm to celebrate Read Across America and Dr. Seuss' birthday. Seuss lovers of all ages are invited to join for stories, games, and birthday cake.
The National Education Association's Read Across America is a year-round literacy project that encourages readers, young and old, to celebrate reading.
The program is free and requires no advanced registration.  There will be a chance to win a Dr. Seuss door prize.
For more information: Call (803)637-4025 or visit http://www.abbe-lib.org/