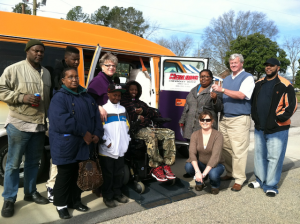 The story began on December 16 when Willie was injured in an unfortunate accident.  He spent many days in ICU, followed by a hospital stay and a brief period of rehab. Willie continues to improve. Willie, along with his family, wants to send A BIG THANK YOU to the many who have provided so much support during this difficult time.
Ms. Debbie Courtney, who believes she was given hands and feet to assist God, wants Edgefield County citizens to know that they are the best supporters ever. The folks are always there to help when anyone is in need.  This was proven true when one phone call changed Willie's opportunity to ever leave his house.
Although there have been many obstacles, there have also been many blessings for Willie and his family. One of the largest hurdles was transportation, the need for a vehicle to carry Willie and his wheelchair to and from his many appointments. After a number of phone calls to many car dealers asking for some kind of help, Herlong Motors called and offered to donate a van.  The next problem was a lift for the van and someone to put the lift on. This expense could run between 3 to 5 thousand dollars; however, within one day the phone call came that the Cockrell/Johnson family would not only donate the lift, but also install the lift. The last issue that needed a solution was a tank of gas, well within hours Gary's Soc Station, Monk's BP and Herlong Motors had the van on F (fuel). Willie is very excited to take a trip to the mall after this wonderful donation.
Willie and his family are also in the process of moving and are very thankful for the many men from Edgefield who have volunteered to donate the wood needed and the manpower to build a wheelchair ramp. Phillpi Church is building a ramp at this time so he does not miss any time with Grandma. Rosa Springs has also donated. Additionally, Pleasant Grove Baptist Church members were so kind to provide a large donation to help in any way needed.
Just after the accident, the TEAM WILLIE campaign began with the help of Sarah's Santa and JET Middle School. Donations were collected from faculty, staff, and each class at JET Middle School along with the selling of Team Willie buttons that continues today. ($5.00)
If you are interested in purchasing a button or making a donation, please contact D. Courtney at 480-1677. The family can also use gas cards to fill the van, as they will have to travel to many doctor appointments and therapy.
Another fundraiser TEAM WILLIE is sponsoring is a cake raffle. Mrs. A Williams from Johnston will bake you the cake of your choice if you are the winner. Those interested may purchase tickets by calling 480-1677 or contact JET Middle School. Please help us out!
Sarah's Santas and JET Middle School Families has committed to continue to assist Willie and his family as needed.
All involved wants the Edgefield county community to know that all donations, monetary, time, meals, and so much more are extremely appreciated. Nothing goes unnoticed. Willie is the son of Rodney Smith and Tracey Price of Johnston.
Submitted by Debbie Courtney