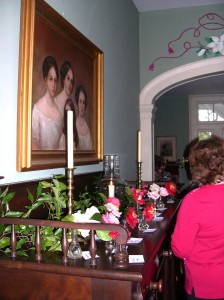 One expects to see at this traditional event (held Feb. 16) the array of camellia blossoms on view in glass holders, "facing" the onlookers with such beauty of color and style (form)—peony, full tight peony, peony formal, double rose, ruffled petals, etc. These are the layering of petals on the camellia that we are speaking of.
There is style in the attendees also; the fashions worn by the guests are almost as appealing as the flowers, as seen in the photos (with permission by the subjects) shown here.
Red is a favorite choice for complimenting the blooms, for most of the camellias come in shades of red and pink.  There was not a great deal of pink in the guests' attire other than the sweater under Virginia Kemp's smart black suit, or the lipstick the women attendees used.  However, red abounded in the dress of those who poured and those who served, as well as those who came to enjoy.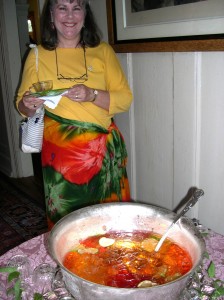 Several special outfits enhanced the ambiance, especially Florien Mosley's ultra suede jacket in a lichen green hue worn over her black with a touch of zebra stripes at the neckline – a great background for the reds all around. Miranda DiMarco's colorful skirt and matching top drew attention as she neared the punch bowl which held all the same colors as her outfit.  Who was mimicking whom?
Another stylish dresser is the state garden club judge Anne Yonce of Johnston whose black outfit, featuring sheer fabric and brocade, wore white hose as an accent.
Lady Hodges, one of the key figures in the decorations for the occasion, went blue and brown, from head to toe (great brown shoes), and her longtime friend Beth Byrd wore black and white checks which set off her real camellia pinned at her neckline.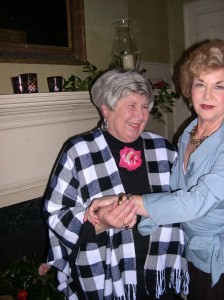 A very sophisticated look was worn by the sister of the chairwoman of the Edgefield Camellia Club. Henrietta Odell Humphreys's sister is the multi-talented church and community worker, Cynthia Odell Bull, whose sparkling necklace of jets and brown stones picked up the colors of her sheer, animal print, handkerchief-cut skirt.
The Chairwoman herself was lovely in a red suit; her skirt was a fashionable short length and the coat was cut long.
Red was also carried out in the underlay of the lace cloth on the banquet table in the dining room that held multiple dainty sweets and sandwiches in the surround of a tiered arrangement of camellias. What a beautiful setting for such a memorable event.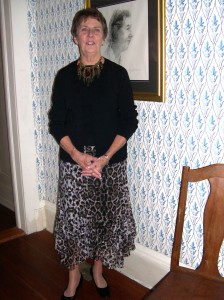 Congratulations to the Camellia Club, who incorporate members throughout Edgefield County, into Aiken and Saluda Counties, and on the Ridge.