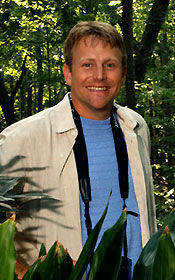 Patrick McMillan, host of the ETV nature program Expeditions, will guide a hike in the Stevens Creek Heritage Preserve in Clarks Hill, SC. McMillan will take us on a one and one-half mile walk and identify and discuss the many rare plants found in the Preserve. Fifteen rare plant species are found on this Stevens Creek bluff, including the Florida or Miccosukee gooseberry. The preserve is also home to Webster's salamander, an endangered species in South Carolina.  The spring outing is sponsored by the Upper Savannah Land Trust, a local conservation organization that serves the western Piedmont of South Carolina.
Hikes will be at 10 a.m. and 1 p.m. on Saturday, March 24 and will last approximately one and one-half hour each. There will be a charge of $10 per person for members of the Upper Savannah Land Trust and $20 for non-members to provide an honorarium for McMillan which will go to the South Carolina Botanical Gardens.
Registration is on a first come basis, and deadline is March 19.  Please indicate which hike you would like to register for and provide contact information including mailing address, phone number and email address if applicable.  You will receive confirmation of registration indicating which hike you are assigned to.  Participation is limited to 25 per hike.
Go to the Upper Savannah Land Trust web site www.scuslt.com to see a copy of the informational flyer.  You may register by sending a check to the Upper Savannah Land Trust, 452 Price's Mill Rd, Parksville, SC.  Contact Wallace Wood at wwd@wctel.net or call 864-333-2393 if you need additional information.
In 1959, the late Dr. Albert E. Radford of the University of North Carolina wrote a scientific paper on the discovery of a "relict plant community" in South Carolina. The paper documented an interesting bluff that he and Dr. Julian Harrison of the College of Charleston had found on Stevens Creek. Dr. Radford concluded that Stevens Creek bluff harbored a group of plants that had probably been here since the latter part of the Pleistocene or the last Ice Age. Today, Stevens Creek bluff is part of the 434-acre Stevens Creek Heritage Preserve. This preserve was purchased by the South Carolina Department of Natural Resources (DNR) with assistance from The Nature Conservancy.
McMillan is the host, co-creator, and writer of the popular and award-winning ETV nature program Expeditions. Over the past 15 years McMillan has worked as a professional naturalist, biologist and educator and is director of the Campbell Museum of Natural History and SC Botanical Gardens at Clemson University.