The "Brazell Boys" Will Continue There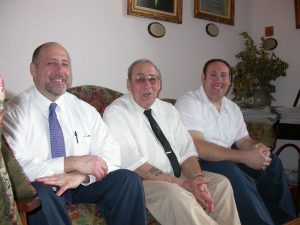 "It has been a pleasure serving the public here in Edgefield," were the words from the chorus of three men who have been a part of Fairway Food Center for many years. Henry Weston Brazell, the father of Robert and Thomas who joined him, sat with us for an interview about the selling of his business that has served this area for 44 years.
Fairway was bought earlier in February by Matthew Smothers of Darlington and his sister Erin is the manager. She has been seen in the store for some time now.
"Wes," as Mr. Brazell, or "Mr. B," is sometimes called, enjoyed reminiscing over the 44 years, starting with how he and his wife Linda got to Edgefield.  Linda's father bought the grocery business from Horace Ray; it was directly across the street from where Fairway Food Center is now. "Her father brought us here, from Darlington," says Wes. They remained in that store until 1976 when a new store was built by the Brazells.
Wondering what was there before the present store, Mr. B. smiled remembering and said there were two houses that were moved from the site. "Charlotte Elam had a house and garden there.  The building is where her garden was (a nice swap for a foods store). Ms. Davis lived in a house where the liquor store, next to the Fairway property, is now." He remembers both houses being moved, and that Ms. Davis's house was cut in two to move.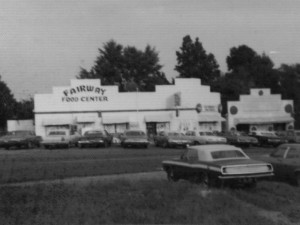 Robert remembers when they moved the business over to the new place.  He was six when they came to Edgefield, and was about 14 when they made that move across the street.  He remembers the movers getting the safe from the east side of the street and bringing it to the double doors of the new building; the safe slid off the dolly it was on and rushed right into the building, full force (good thing the doors were open).  He said he was glad his dad did not see that!  They had closed the door in the old building, according to Robert, on the last customers on Saturday evening, loaded all the equipment that needed to be moved (new equipment was already in the new store) like cutting utensils for meat, etc., and put those in to ready the store for the following Monday.  This was May 1, 1976, and a grand opening followed a couple of months later. Robert also noted that Sunday, after church that weekend, they came back to the store and got it ready for that big Monday.
The mention of the church, Edgefield United Methodist, and these three men want to talk about what that church has meant to the family. "We grew up in that church," say the sons.  Robert noted how they first started.  He said Mrs. Mae Brunson Reel had come in the store and learned they were Methodist, immediately upon their arrival.  On a Sunday she called them and came to their house, ("the yellow one on Wigfall," by the creek, where they first lived) she got Robert "by the hand" and took him to Sunday school.  The family followed and joined and have remained very active since.
There has been much mention so far of Robert, but very little of Thomas, and there is a reason.  Robert is 16 years older than Thomas!  After ten years of living here, the Brazells had their second son, Thomas, who has grown up working in the store.
Both of the Brazell sons played football – Robert went on to play at Newberry College.  The Brazells' interest in school and the sports arena has been constant and helpful in the community.  Their support is significant, over the years.  As we were talking, someone walked into the office and said: "I know you; when it comes time to buy my membership in the Booster Club, I always come to Fairway."  Robert responded, "And that will continue!"
And so it is that the Brazells have been active in both their church and their communities. And now is the time to mention Linda Brazell, to whom Mr. B. gives great credit for the business being so successful over the years.  She died in January 2005, after a ten-year battle with cancer.  However, there was time before her death for hearing from the community what the Brazells had meant; they were named the "Citizens of the Year" by the local Chamber of Commerce in their yearly award. It was a few months later that Linda passed away.
Wes and Thomas and Robert all wanted to talk about her strong interest in the Title I program at W.E. Parker school where she put a great deal of interest and energy.  She made sure that they had the supplies – paper, pencils, etc. – they needed to start each year. Wes said that her friendliness, and knowing everyone who came in, gave great support to the business.  "She was always smiling."  He said when she was battling cancer and was in pain, he encouraged her to go home.  She would refuse by saying that being in the store was "home" and more comfortable for her. "When Thomas was born, she even brought him in during his infancy, kept his bassinet in the office."
Thomas went on to Piedmont Tech after high school, married Faith and now has a son, little Wes. Robert married Karen and they have two grown children, Lori who is married to Eric Hutto and Cole who just graduated from Fireman's School and is ready to begin his career.  These three grandchildren may see their granddad more; however, he knows that he will be dropping into the store from time to time.
He says on the first Saturday after the sale was completed, he was at home, knowing he had nothing to do.  For a moment he forgot that it was Saturday, and started dressing for church!  That is what he usually did on his only day off.  Actually, the store started opening on Sunday a couple of years ago.  He told his grown sons that he would have nothing to do with it; they would have to handle Sundays.  They did by each having every other Sunday off.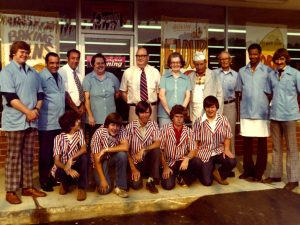 What fun reminiscing over all the Edgefield County folks who had worked in the store.  It was impossible to bring back the names of everyone; the interview was time limited because Robert and Thomas had to get back to the store.  (They are working there still, much to the community's pleasure—Robert in the meat department and Thomas on the floor.)
Some of the starting workers were: Linda, of course, his wife, doing bookkeeping and working the register; others were Mrs. Rose Russo, Keith McCary, Randolph Upson, Lloyd Moseley, Hugh Holson. "I've seen kids grow up here, who have worked in the store.  I hardly recognize them sometimes," says Mr. B. Robert said it seemed that almost all the fellows that he went to school with would end up working in the store. Other names that spilled forth: Ruby Brown, Sammy Robinson, Lafonzo East, Carol and Delon Nettles, Sally Corley (who will remain there working) . . .
One last story they had to tell – about delivering groceries to certain persons in the community.  Linda gathered the groceries, knowing the peculiarities of each customer and what he/she preferred. They also talked about the fun folks who came to shop.  "Becky Morgan would come and stay about three hours.  She used it as a social time, like so many others; she talked to everyone in the store, but then when she finished visiting, the cash register person knew she was in a hurry and had to move quickly to please her.
Will Wes (Sr.) miss getting up at 3:00 a.m. to go to the Columbia Farmers Market to get fresh produce, arriving back at the store in time to open at 8:00? Are there other stories to tell?  No doubt so, and ones that the community could offer.  It is good to know that the store will continue, under new ownership, and the "Brazell Boys" will be around to serve, as well as new faces.