A roundup of last week's results from area schools' spring sporting events, including, Track & Field; Softball; Baseball; Soccer; and Golf.
TRACK AND FIELD
Boys
Strom Thurmond finishes second in four way meet with South Aiken, Silver bluff and North Augusta.
High jump — Raleigh Yeldell (ST) 6'2″
Girls
Strom Thurmond finishes 4th in four way meet with South Aiken, Silver Bluff and North Augusta
Baseball
Strom Thurmond 11-12, Eau Claire 1-0
First game stats: W: Marquez Mathis (2-1). L: Sanders. Leading hitters: ST James Bates 3-3. EC . Recs: ST 4-4.
Gilbert 12,  Strom Thurmond 2
Winning Pitcher Mike Morrison, Losing pitcher Grant Rutland Rec. ST 5-5 3-1
Fox Creek 12,  North 3
Andrew Buist (3-1) picked up a win on the mound Tuesday as Fox Creek cruised past North in Region 4-A action. Quadre Castleberry and Caleb Cox were both 2-for-2 with a double and three RBIs. Deondre Baskett was 2-for-4 with a pair of RBIs. The Predators (6-4, 5-0 Region 4-A) will be at Blackville-Hilda Thursday at 5 p.m.
Fox Creek 14-17,  Blackville-Hilda 0-0
The Fox Creek High School baseball team took both games against Blackville-Hilda on Thursday. The Predators (8-4, 7-0 Region 4-A) won the first game 14-0 and the second game 17-0. Brent Lacey was the winning pitcher for Fox Creek in the opener and went 3-for-3 with two doubles and a home run. Caleb Cox went  2-for-2 in the opener.  Brett Butler picked up the win for the Predators in the second game.  Caleb Cox went 2-for-3 in the second game along with Roby Gillespie.
RS-M 13,  Calhoun County 3
Ridge Spring-Monetta pitcher Andrew Pratt (2-0) struck out 11 hitters in six innings to lead his team to a win over Calhoun County Tuesday. Pratt also had a big day at the plate for the Trojans (5-2, 4-1 Region 4-A), going 2-for-4 with three RBIs. Kyle Middlebrooks was also 2-for-4, while Sam Bedenbaugh was 3-for-3. Tripp Padgett was 2-for-2, and Matt Magee drove in three runs. RS-M will be at H-K-T Thursday.
RS-M HS 14,  Hunter-Kinard-Tyler HS 4
Jason Fallaw (2-0) struck out eight for Ridge Spring-Monetta (6-2, 5-1 Region 4-A) in the region win, and he also went 4-for-4 with three RBIs.
Andrew Pratt went 2-for-4 with two RBIs for RS-M, and Sam Bedenbaugh went 3-for-3.
Softball
Strom Thurmond – 18, Aiken – 7
The Strom Thurmond Lady Rebels Softball team traveled to Aiken Monday night to take on the Hornets. The Lady Rebels came away with a 18-7 victory.  Leading Hitters, Brooke Benenhaley 2-3, 3 Runs, Amanda Biddlecome  2-5, 3 Runs, Dayna Barnhart 2-4, 3 Runs, 3 RBI, Amanda Horton 2-3, 3 Runs, 2 2B,  Breanna Benenhaley 2-3, 2 2B, 3 RBI, Tori Perano 2-4, 2 RBI, Jerrilyn Dobbs 2-3, 1 HR, 4 RBI
Susannah Hammond 2-4, 3 RBI
WP – Kaeli Wates (3-3)
Aiken 22, Strom Thurmond 11
Kaeli Wates took the loss.  The following girls had 2 hits:  Brooke Benenhaley, Tori Perano, Dayna Barnhart, Amanda Horton, Breanna Benenhaley, Jerrilyn Dobbs, Amanda Biddlecome
Fox Creek HS 15,10,  Blackville-Hilda HS 0,0
In eight total innings of a doubleheader, Fox Creek pitchers held Blackville-Hilda's batters hitless. Stephanie Bloedl (6-2) got both wins for the Predators in six innings pitched on the day. Corrie Hall went 2-for-2 in game one, while Micaela Bell went 2-for-3 with a three-run homer. Kristen Anderson chipped in a double in game two. Fox Creek will host Williston-Elko today at 5 p.m.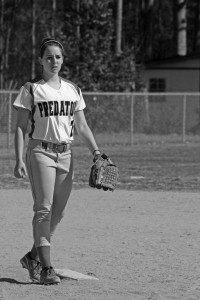 Fox Creek defeated North Tuesday 19-3 to move their record to 9-2, 6-0 in the region.  Offense was lead with Micaela Bell (4 for 4 with 2 doubles and 2 triples) followed by Stephanie Bloedel (3 for 3 with a walk and a double).  Hannah Culpepper threw a no hitter, but 3 errors allowed the three runs for north.
Golf
Chapin 155, Lexington 156,
Strom Thurmond 179
At Country Club of Lexington, par 36
Low scorer for Strom Thurmond Reed Covar (ST) 41. Rec: ST 2-2.
Strom Thurmond 199, Keenan 251
At Linrick, par 37
Medalist: Garrett Gibson (ST) 47, Ryan Thurmond (ST) 47
Boys Soccer
Columbia 5, Strom Thurmond 0
Goals: Shingyi Lay, Ba Gay 2, Thee Hart 2. Goalie: (C) Julio Antonio, (ST)
Gilbert 6, Strom Thurmond 0
Goals: Jose Cedillo 2, Shane Barton 2, Jake Bedenbaugh 2. Goalies: Dylan Amick (G), Steve Smith (ST). Recs: G 12-1, ST 1-6.
Girls Soccer
Gilbert 15, Strom Thurmond 0
Goals: Jordan Lindler 2, Paige Rankin 2, Kayla Moses 3, Hunter Clark 2, Mallory Reynolds, Emily Pound, Ashton Frailey 2, Katelyn Smith 2. Goalies: (G) Arianna Hartley (ST) Karly Reardon. Recs: G 4-4-1, ST 0-3. Source: G.
Soccer
Ridge Spring-Monetta's first year soccer team charged into 1A competition with a 6 and 1 record. The Trojans entered Monday nights match with Blackville-Hilda with 2012 wins over North (2), Fox Creek, Blackville-Hilda, Denmark and Calhoun County. The remaining games are away:  March 29 Denmark, April 10 Fox Creek, and April 19 Calhoun County.