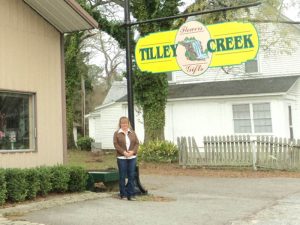 Kim Tilley grew up in Cullowhee, North Carolina, near Tilley Creek, a creek named after her ancestors.  She loved that creek. As a child she played on that creek.  She loved her home in North Carolina, but when she was 13, she and her mom moved to Saluda, S.C., to be with her grandmother.  Kim went to Saluda High School where she made long lasting friends. Nine years later, she moved back to North Carolina near Tilley Creek.  As she was an adult then, she worked with Savannah Farms there in North Carolina, learning the wonderful world of plants and flowers.  She loved her work there.  As she lived in the Tilley Creek area 12 years this time, staying in touch with her Saluda High School friends and her Saluda family, then she decided to move back to Saluda and be reunited with her best friend, Scott Bledsoe.  They were best friends in high school, but this time they fell in love and she declares him as her best friend and the love of her life, still yet.
Her father had passed away in North Carolina and she did not feel the need to stay near the mountains and the creek anymore, but she would always have an attachment to the childhood memories of Tilley Creek and the wonderful memories of her father and his ancestors.  She settled nicely into a home on Pencreek Road between Saluda and Johnston and said it looks like that is the nearest she will get to a creek this time.  She said memories of the blizzard of 1993 in North Carolina make her glad to live in this warmer climate.  She and Scott learned of the Ivy Cottage Too in Johnston needing to hire a flower sales person.  She applied for the job and got it.  It was the business that was on Calhoun Street where Clarks Flowers was previous to that.
Kim said, "I want to thank Terry Shaffer for the opportunity to learn the flower business. He gave me a start in the flower business by training me.  I worked with him from 2007 until 2009.  The owners of Ivy Cottage Too (Terry Shaffer, Gayle Dorn, Beth Gibson)wanted to sell the Johnston Ivy Cottage Too.  At that point, I knew I wanted to be the new owner of the flower shop, so Scott and I bought the business. I got my love of flowers from my early years with my Mom whose name oddly enough is Rose. She definitely had a green thumb.  We decided to name the shop Tilley Creek Flowers and Gifts to bring a little part of my childhood in the mountains on Tilley Creek to Johnston."
"During my transition into becoming a shop owner, Sherry Carson was a life saver as she agreed to work with me and she stuck with me through the learning years of being a new shop owner," she said.
Kim enjoyed the shop on Calhoun Street next door to Tidwell Jewelers, but the building was sold and she had to move.   She has moved the business Tilley Creek Flowers & Gifts to 503 Edisto Street, located across from Johnston United Methodist Parsonage in the David Parker Exterminating building, formerly the Southern Chemtech building.  This building has spacious lighted areas to enhance her beautiful flower arrangements and gifts.
Elaine Duncan Bradley, Kim's very talented floral designer, has been a great help doing arrangements while Kim and Mrs. Patricia Griffis have been organizing the new shop.
Kim said: "I want to thank Scott's Granny, Mrs. Doris Perry,  for being an inspiration who also has a love of flowers. I also want to thank family and friends for helping move the big stuff and a special thanks to Danny Tidwell for being patient with me while finding the right building to move into."
By Judy Gibson Holmes
The new shop is filled with beautiful home décor, gifts, wonderful flower arrangements , including various live plants, wreaths, and funeral sprays.  Step into this shop to find your gift items and flower needs and where you will always be welcome and greeted with a smile.
This month will be a perfect time to get re-acquainted with Kim Tilley and her shop as she is having the March Madness Sale right now including 50% off on gift items.