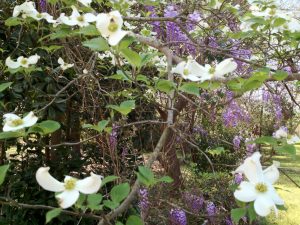 Fragrance and color mark the Yellow Jessamine and Wisteria (purple), and one follows the other in blooming in spring. Over the green weekend (St. Pat's Day) the wisteria opened its cascading blossoms to the warm sun, and our roadways and yards became decorated in splendor. This was just in time for spring which began at midnight, March 19.
But wait, remember that wisteria is not always a flower of choice.  It is hard to think of it as a "rogue" in the garden, according to an early writer of garden news, in this newspaper.  It twists and turns and chokes and covers everything if left to grow wild.  But for the next two weeks, one may wish to look at it with forgiving eyes.
The Web site welcomes special photos from our readers of wisteria and other spring blossoms from the area. Send your photos with your name and location to news@edgefieldadvertiser.com. We will choose a few of our favorites and publish them here.