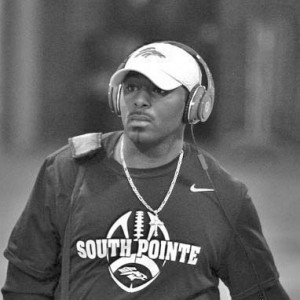 Welvin Simpkins, a native of Edgefield, SC, has completed his 3rd year coaching at South Pointe High School in Rock Hill, SC. This was the 1st year he got a chance to coach the position he truly loves and the position that he excelled at the most while at Strom Thurmond; wide receiver. Previous years he coached the defensive backs. Simpkins played on the Strom Thurmond Lower State Championship team in 1995. He played wide receiver and defensive back, and caught the winning touchdown pass that helped clinch a spot in the State Championship game.
Coach Simpkins was on the staff at Independence High School in Charlotte, North Carolina during three seasons in which they won state championships and on the South Pointe staff that won the 3A State Title in South Carolina in 2011.  When asked about being a part of successful programs, Simpkins said, "When I first started, I never imagined that I would be blessed to coach on staffs with so much success year in and year out. State titles are extremely hard to come by and I truly am grateful to have this opportunity." Simpkins states that winning a state title in South Carolina means a lot to him as oppose to the titles he won in North Carolina. "I'm very grateful for the titles we won at Independence. Each title was special and meant something different to me. But to be able to win one from my home state is something that I always wanted to accomplish. My chance at winning one as a player eluded me back in 95 so that was always a part of me that I felt was somewhat incomplete. To have won this one makes it a little better. Not only that, being that we won it at Clemson, my alma mater, was bittersweet."
Simpkins is married to the former Kesha Bibbs and the son of Willie and Rev. Carmilla Simpkins. Simpkins is a 1996 graduate of Strom Thurmond, a 1999 initiate into the Kappa Lambda Chapter of Kappa Alpha Psi Fraternity, Inc., a 2001 graduate of Clemson University with a Bachelor Degree in Marketing, and a soon to be graduate of Liberty University with a Master of Education (M.Ed) in School Counseling.