Patsy Cline is a Convincing Angel in the Show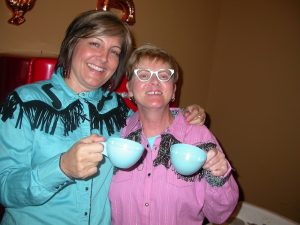 The first musical is coming to the William Bouknight Theatre at the Discovery Center in Edgefield next weekend, April 20, and it will rock the theatre as it has during rehearsals.  Always, Patsy Cline will be a show to remember. And here is why.
Debbie Fryer as Louise has such a twang in her accent you would never know she lost her Kentucky accent while doing radio in a past life (before retirement).  She plays Cline's friend who met her only once or twice but was a constant support through phone calls and letters through her short career. (Cline died in a plane crash at age 30.) And her lines are endless but performed like an entertainer.
A second reason for a "show to remember" – Melissa McElmurray who plays Patsy has a voice for the part.  She has played Patsy three times and she has a trained singing voice through her studies at Augusta University. And she has the look of a Patsy, slim, attractive and rhythm in her body.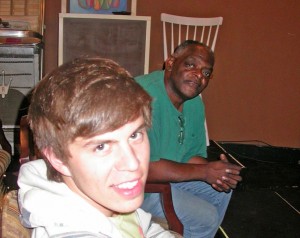 Then there is Carey Nicholson at the drums.  Yes, the music isn't canned! It is the great surprise as a four piece ensemble (piano, bass, drums and a steel guitar) beats out the rhythms of  "You Belong to me," Stupid Cupid, Stop Pickin' on Me," "Come on in and sit right down and make yourself at home."
Everyone with an ear for fifties-sixties pop and country music will feel right at home.  And you can clap and sing, as Patsy will engage you to do so, at times.
"It was God who made Honky Tonk Angels" will take you away (to those years when these words were fresh and new), and the music coming from the keyboard has none other than JoAnne Watson Painter, whose Watson genes have prepared her for this – the classical piano training is hidden by the beat that helped set the pace for rock and roll, or so it seems.
Someone on the set said that, like Elvis, it took Cline's death to make her live forever. Melissa, who plays her, is an elementary school teacher.  A relative of Melissa's plays the bass, and the guitarist was missing Monday night, but his name is Walt Barton.
The director, Bradley Watts of Aiken (seen in Dearly Departed), says he wanted to bring the show here – he knew this show would be the right, first musical.  "Like Madonna and Parton, Cline is known by everyone."  He says he loves Edgefield, wishes he could live here.  He loves "the venue, the people, the little theatre here."  He mentions in particular Pamela Moore and Beth Worth, who was there to add her support, a nightly thing for her.
Debbie is retired; Melissa still teaches; the musicians are a mixture of young and retired.  Whatever the mix, it is a show to see.  Tickets are selling fast and they have already added a third weekend, in May.