Bio of our regular Columnist/Correspondent Mary Anne Hair who writes the Johnston News for us each week in the print edition of The Edgefield Advertiser. 
—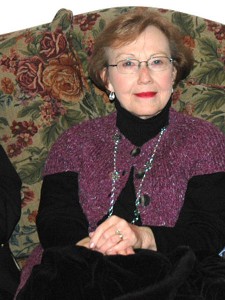 My roots go deep into Edgefield County.  I grew up in the Roper's Community in the Merriwether section of Edgefield County in the ancestral home built in the early 1800s by my great grandfather Thomas Walter Lanham (approximately 1 and a half miles from Mount Vintage).
My parents were Leila and Willie Lanham (William Driskell Lanham).  My father ran a dairy farm and sold milk to Sancken's Dairy in Augusta.  I attended school at Edgefield Elementary and graduated from Edgefield High School.  I received a BS degree from Winthrop College and a Masters from the University of S.C.  Right after college, I married Sam Hair who was working with Clemson Extension Service.  I taught school for 1 year at Edgefield High School.  Sam was accepted at the University of Louisville Dental School in Louisville, Kentucky, and we lived there for four years.  I taught first grade there and attended the University of Louisville for elementary certification.  Sam served in the Army Dental Corp after graduating from dental school.  We lived in El Paso and San Antonio, Texas.  I came back to Edgefield to live for a year while Sam served in Viet Nam.  After his Army service Sam set up a dental practice in Johnston, and we have lived in Johnston 44 years. We have been blessed with 4 children, 1 boy and 3 girls, also a daughter-in-law and 3 sons-in-law.  And a 6 grandchildren, 4 boys and 2 girls.
I retired from teaching in 2002 from the Edgefield County School District where I taught first grade at W.E. Parker Elementary School.
Writing for the newspaper came about probably as a part of my retirement.  A number of people urged me to do so "since I was retired with nothing to do."  Anyway it has proven to be enjoyable, and I have ended up calling and talking to many people that I had been too busy to talk with in years.
I'm always so pleased when someone drops off news at my house or calls with news of things that they or their families have done.  As I've said before, it certainly makes my job easier when I get news like that.  I want Johnston to be well represented.
Johnston has changed quite a bit in the forty-four years that we have lived here. When we first moved to the area, there was a booming peach industry.
All of our children, except the youngest, worked every summer in the peach packing sheds.  That's not the situation now.  However, Johnston has a rich heritage with beautiful churches and older homes.  I have heard of a number of people that were just passing through Johnston and liked it so well that they decided to buy an older home and move here.  They liked the friendliness of the people and beautiful homes and wanted to be a part of it.  Our youngest daughter, who is married now and lives in Atlanta, used to bring friends home with her from college and she took them "uptown" to the bank or store.  The friends were amazed that everybody knew her by names and were interested in what she is doing, etc.  One friend commented, "Why, it's like Mayberry!"
We like it like that!
—
Johnston News 
By Mary Anne Hair
Published in the 4/18/12 print edition of the Advertiser
Many families were fortunate to be together on Easter and had a wonderful time.
Irene and Russell Clark enjoyed having their daughter Tricia and her husband Robert Tripp and their three boys, Glenn, age 16, David13, and Scott, 8 from Rossford, Ohio.  They arrived on Friday, April 6 and returned home on the 13th.  They also visited Robert's parents George and Mabel Tripp in Edgefield.
Margaret and James Edwards and her sister Pat and her husband Bill Murphy of Aiken visited their nieces in Columbia for dinner on Easter Sunday.  They met at the home of Patty and Bill Quattlebaum.  Joining them was another niece Leslie Dawes, who was co-hostess. Another niece Dele and her husband Bill Wooten, and their daughter Sara joined them.  They all had a very delightful time together.
The 2012 Homecoming at Johnston First Baptist Church will be held on Sunday, May 6, at 11:00 a.m.  Dr. Charles Hattaway, former pastor, will be the guest speaker.  The morning service will be followed by a church-wide dinner.  The revival services will begin that evening at 7:00 p.m. and continue through Wednesday, May 9.  The visiting minister, Rev. Barry Epps will be bringing the message each night.  Everyone is invited to attend.
Another interesting activity that is going on at JFBC is the youth group, which is called UTX (Under the Cross).  This is for youth, 6th graders and up.  The meetings are held on Sunday nights after the evening worship service, from 7-8 p.m.  All youth of the community are invited to come and take part in this fun group.  There are also fun activities planned for this Saturday as well as plans for the summer. For more information, call the church office in the mornings at 275-2759.
Zumba classes are being held at JFBC in the Lon Knight Bldg. on Monday nights at 7:00 p.m.  It is a lot of fun and is exercise for all ages.  Starting in May, a Thursday class will be added.  The cost is $5.00 per class.  Call the church office for more information.
Remember the benefit for the Dampier Family scheduled for Saturday, April 21 at Mt. Calvary Lutheran Church.  Proceeds will be going to the family for medical and personal expenses.  Tickets are $8 for a delicious BBQ chicken dinner plate.  A silent auction will be held during the dinner.  For tickets or additional information, call the church office at 803-685-7523, Pam Hallman at 803-685-7663, or Donna Hatcher at 803-275- 4839.
Have a wonderful week and send your news to maryhair@bellsouth.net or call me at 275-4550.