A Short Autobiography
By Kim Walker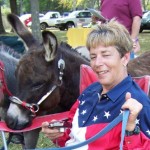 I have been writing about donkeys, mules and K-9's for over a year now for The Edgefield Advertiser.  My column is entiltled DONKEY LORE.
I grew up in the San Francisco Bay Area, a beautiful horsey town in the Redwoods — Woodside, California, similar to Aiken, where there is horseback riding all over town.  Woodside is close to Standford University, Palo Alto, CA.  I rode my first horse in Lake Tahoe, CA, at the Bonanza Ranch, and had my first horse when I was 9 years old.  I used to show horses in my teens in Western classes.  Most of my wins were in bareback equitation.  I grew up in the 60s, some turbulent times, especially, in California.  Rock and roll pretty much started in the S.F. Bay Area. Oh, my, those were some times. I used to cut high school and frequent Haight Ashbury with my girlfriend, sell electric yo yo's that lit up at the Bill Graham's Fillmore West in S.F., attend Be'ins in Golden Gate Park, demonstrate against the Viet Nam War — you know, the peace, love generation.
I settled in Aiken, S.C. in 1987, after working with racehorses for five years.  I used to exercise them on some very prominent thoroughbred farms in Virginia and Maryland, as well as on the racetracks in Delaware , Maryland, and here in Aiken.  After, getting tossed too many times, at 37 years of age, off the 2-year olds in Aiken, I decided to quit and return to school.  I fininshed my nursing degree, then went on to become a physician assistant in 2000.  Dr. Rainsford and any better physicians, oh, and of course, Dr. Turner.
I was commissioned as a 2nd Lt. in the US ARMY RESERVES.  Currently, I am on a volunteer Active Duty Tour at Ft. Gordon, my last, I think.  I have been mobilized twice, once to Ft. Stewart, Ga., and once to Ft. Benning, Ga., during the Iraq War.  Last year I did a volunteer Tour at Ft. Jackson.
I have a variety of experiences as a physician assistant from primary care, nephrology (my favorite), orthopaedics, acute care, internal medicine, and military medicine. My passion is the longears — donkeys and mules — and adopting military working dogs, German Shepherds.  Currently, besides my own 12 donkeys and 5 mules, I run a satellite adoption center for the wild burros for Peaceful Valley Donkey Rescue.
My roots are here in S.C.  My great-grandmother, Dora Dee Walker's picture is in the Allendale Courthouse and my grandfather, Warren Calhoun Walker, was born in Abbeville, S.C., but is buried in the Presidio in S.F., former Marine Corps.  I need to go to my Great-grandmother's grave sometime in Appleton, S.C.
—
Donkey Lore
By Kim Walker
donkeytrek.walker@gmail.com
This week I look at the mule and donkey's pal the horse.
Who is your pick for the 144th running of the BELMONT STAKES?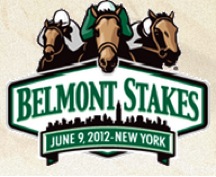 Once again, we have another triple crown contender — the 3-year-old chestnut colt, " I'll Have Another," for the 144th running of the Belmont Stakes, the final leg of the Triple Crown.  Will he become the 12th Triple Crown winner since Affirmed won?
He ran two great races, the Kentucky Derby and the Preakness. However, I do not think that he will win.  I think he will come up short.  I see him more as a front-runner speed horse.
The contenders for the Belmont Stakes are the following: Alpha, who placed 12th in the Kentucky Derby, Afigan, Dullahan, who placed 3rd in the Kentucky Derby, Five Sixteen, Guyana Star, Optimizer, Paynter, Street Life, and Union Rags, and Unstoppable U.
My pick is Dullahan, who placed 3rd in the Derby.
The first Belmont Stakes was held in 1867.  The Belmont is a long race, 11/2 miles, a quarter mile longer than the Kentucky Derby.  Of course, there has never been a horse like Secretariat, who finished the Belmont by 31 lengths!  As great as Secretariat was, his offspring never did accomplish much.  I galloped many of Big Red's offspring for Hall of Fame trainer, MacMiller, now deceased, in Aiken, S.C. many years ago.
Another reason why I choose to pick Dullahan, is that the jockey Castello knows the Belmont track very well.  This is what is so interesting about horse racing, so many variables, such as jockey, horse, pedigree, weather, e.g. muddy or fast track.
Trainer Doug O'Neil, the trainer of " I'll Have Another," was suspended 45 days and fined $15,000 by the California Horse Racing Board last week because one of his horses, Argenta, was found to have too much of a performance enhancing drug in its system during a horse race in August 2010.  The drug was elevated levels of CO2.
" I'll Have Another," was sold as a 2-year-old for $35,000 — not a real high price for a racehorse, a good investment for his earnings thus far, about 2 million, from winning the 2 legs of the Triple Crown. Needless to say what he is worth now as a stud.
Union Rags is trained by Michael Matz, the trainer of Barbaro, from Fair Hill, Delaware. He says that he did not get a chance to run in the Derby.  Will see.  I would not count Union Rags out, either.
Start handicapping!
—
Be sure to Subscribe to The Advertiser today, so you don't miss any of Kim's Donkey Lore columns.