"Memorial Day is Monday, May 28th.  This is the day our county will pay tribute to all who have made supreme sacrifices for our country.  There is no greater country than the U.S.A., and there is no greater sacrifice than those who give their lives defending it.  Memorial Day is set aside to remember heroes who have sacrificed to defend freedom on battlefield near and far.  These American heroes should not be forgotten.  They deserve recognition, reverence and gratitude."
Lt. Col. R.H. McKie, USA-ret.
American Legion Post 30
Edgefield, South Carolina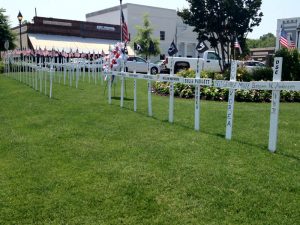 Edgefield County will hold a Memorial Day Service among the crosses on the town square, Monday 28 May at 9:00 a.m.  The public is invited and encouraged to attend.
On May 31st American Legion Post 30, Ft. Gordon and the Veteran's Administration will host "Wounded Warriors".  These young people, from hometowns all across our country, are courageously retraining themselves for a future forever changed because of their "sacrifice for country".  They will travel by special bus, accompanied by their nurses and staff, to the town square where they will arrive around 10:00 a.m.  From the square they will travel to the National Wild Turkey Federation for a tour and some fishing.  American legion Post 30 will cook steaks for them and the Ladies Auxiliary will provide homemade cakes and pies.  The public is encouraged to come to the NWTF to meet these remarkable "warriors".
That grows on fields where valor led,
It seems to signal to the skies
That blood of heroes never dies.
Fear not that ye have died for naught;

We'll teach the lesson that ye wrought

In Flanders Fields.