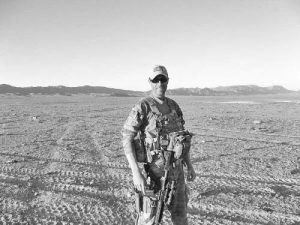 By Jack Reece
 "They are taking real good care of me sir," was the response I received from the young soldier at Walter Reed.  "Please let everyone know how much I thank those who provided support from the Wounded Warrior Foundation while I was recovering in Afghanistan before being transferred back to the U.S. for further medical treatment."
Staff Sergeant John Barbare had made it home from Afghanistan after what had been a very trying year for a young man from Trenton, South Carolina.  I had spoken to John's mom earlier in the day to see if it would be all right for me to contact him during his recovery at the hospital.  She sounded so relieved that her son was almost home safe and, oh yes, she said he would be very happy to talk to me.
John Barbare, a proud product of Strom Thurmond High School, is back in the United States from a one-year tour in Ghazni Province, Afghanistan, which included several close encounters with people that do not care very much for Americans.  As the subject warrior described it, "lots of bad guys."  The young SSG had served with the 122nd Engineer Battalion headquartered in Edgefield while attending college at The Citadel.  When his civilian job took him to Maryland he transferred to the 312th Psychological Operations Company (tactical) and as of 1 May he has completed 15 years military service.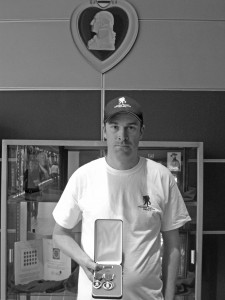 The first Purple Heart that SSG Barbare earned was as a result of wounds from an IED detonation while leading his Psy Ops Team on a mission for the Infantry unit he was attached to.  The Sergeant was not pleased that it took seven days in the hospital before he could convince his commander to return him to his team.  "They were out there and I needed to be with them," confided John.  It was at this point that I am sure both of us were subconsciously thinking of the plaque at the sally-port of Padgett-Thomas Barracks at The Citadel.  "Duty Is The Sublimest Word In The English Language-Robert E. Lee." This young Edgefieldian had graduated from The Military College of South Carolina in 2002 and had, as many before him, taken the General's quote to heart.  The second Purple Heart awarded to John followed an attack on his base camp and the arrival of a 105 round within 10 feet of the aforementioned soldier.  This time it took a lot more than seven days to recover but he of course waited to come home with his unit.  "I think they are going to medically retire me sir," quietly stated the young troop.  It was obvious that this did not sit particularly well with John. And so the 312th will saddle up again, in another year, but SSG Barbare's team lead job will have to be done by another brave American.  Hopefully the new team chief will be one that understands and practices the tenets of leadership as well as Edgefield County's John Barbare.
The proud and relieved parents of one of our finest citizens are Rick and Jo Ellen Barbare of Trenton, South Carolina.