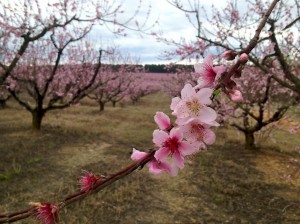 Johnston Peach Blossom Festival On Tap for May 4-5.
Grand Marshal: Mr. Frank Burt, long-time Johnston Builder
This weekend, the Johnston, SC, Peach Blossom Festival will showcase great entertainment, arts and crafts, food concessions, a parade, rides for children, and a family-oriented street dance.
This year's Johnston Peach Blossom Festival Corporate Sponsors are Edgefield County Hospital, First Citizens Bank, IGA, SCE&G, Edgefield Fuel and Convenience, J.W. Yonce and Sons, Northland Cable and SRP Federal Credit Union.
The Festival kicks off on Friday night, May 4, with a street dance in the municipal parking lot in downtown Johnston, designed especially for families, is free and will be held from 8-11 p.m. Music for this dance will be provided by Steele Justice, a popular local band.
This year's Johnston Peach Blossom Festival Dance Sponsors are Titan Farms and Dr. Hugh Morgan Family Practice.
The Festival continues at 9 a.m. Saturday, and the free entertainment begins at 10 a.m. and continues until 4 p.m. The parade is held at 10:30 a.m. All events are held in downtown Johnston on Calhoun Street.
The parade Grand Marshal this year is Mr. Frank Burt, 94. Mr. Burt, a veteran of World War II, has been a builder in Johnston most of his life. He helped build numerous houses on Lakeview Drive, among many other places, and built his own house on Hillside Drive in Johnston 32 years ago. When he as in his forties, he started his own company, Burt Builders.
A member of Mine Creek Baptist Church, Mr. Burt has been a Deacon for over 45 years, and he constructed the Church building.
The popular Festival is now in its 29th year.
A new addition to the Festival is that WJBF-TV brought its Hometown Tour to Johnston on Friday, April 27, one week before the Festival, to highlight the traditional Festival and Town of Johnston. The live broadcast was held 5-7 p.m. that night from the Municipal Parking Lot next to the mural.
Last year, thousands of patrons descended on Johnston to enjoy the day set aside to honor the peach industry, which has been so important in the development of the area. Each year, the Town goes all out with the Festival to remind citizens about the peach industry and to open its arms to visitors.
For more information on the Festival, please contact Debra Aston, (803) 275-2345.
The Johnston Development Corporation, a non-profit volunteer organization, sponsors the Festival. The Corporation works to aid the community in areas such as economic development, education, recreation, historic preservation, tourism, scientific and cultural opportunities, and continued promotion of Johnston.
To learn more about the Festival or the Johnston Development Corporation, visit the website at http://www.johnstondevelopmentcorp.org/.