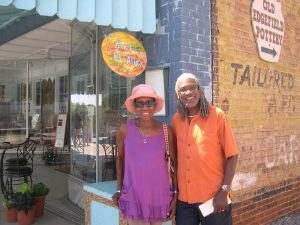 A number of visitors to our Town of Edgefield came by way of the "Heritage Trail–Pottery Tour and Sale" which started on Friday evening with a reception in Greenwood and concluded with tours of pottery studios from Greenwood to Edgefield on Sunday.
Among those open Sunday: Greenwood, pARTners in CLAY; Ninety Six, Bell House Pottery; Bradley, TBob Pottery; Edgefield, Turtle Rock Pottery and PK Pottery; Johnston, Miller's Pond Pottery.
A drawing for two fine pots and doorprizes were among the special events of the weekend.
Read our previous posting for in depth information on the Pottery Tour & Sale.