• There Will Be No Republican Primary
• Candidate Pettigrew Makes Statement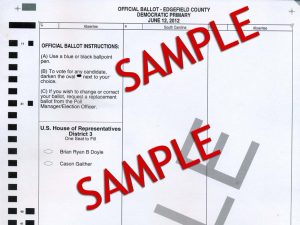 On Tuesday morning, Director of the Edgefield County Voter Registration Office Tricia Butler stated the following: "There will only be a Democratic Primary [on June 12 in Edgefield County].  We will not have a Republican Primary in June."
With that statement the Advertiser chose to publish for the readership a copy of the official ballot for the primary, found in the print edition on page 2 and here.
The Republican candidate for State Senate running against State Senator Shane Massey, John Pettigrew, made this statement Tuesday morning: "The State Republican Party Executive Committee will be hearing an appeal regarding my candidacy late Wednesday afternoon. I am hopeful they will restore my name and others to the ballot and give voters a choice in the June 12th primary."
Today, The Advertiser has learned that Mt. Pettigrew's appeal has been denied.