Ed. Note: Statement from PTC Director of Marketing & Public Relations, Joshua Black, concerning the news that their pottery program will be shuttered over the summer.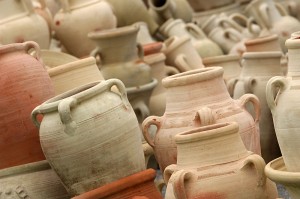 Piedmont Technical College is committed to the success of the pottery program in Edgefield.  We believe that the program can draw students from throughout the region to Edgefield County, thus reinforcing the legacy of Edgefield Pottery and the area's importance in the arts community.
While the program has been successful in helping crafts entrepreneurs launch their businesses over the last few years, enrollment has not been as expected.  To ensure the future of this program, the college will conduct a comprehensive review of the pottery program's curriculum, structure, scheduling and marketing over the next several months.  All changes resulting from our review will be incorporated into the program during the Summer term; as such, we will not schedule classes for the Pottery Program for the Summer Term.
We are actively searching for a full-time instructor to lead this effort and will have the curriculum and instructor in place for fall term.
"We're in the process of examining the program to bring the curriculum in line with other PTC programs in order to provide the best foundation for learning for our students," said Kendall Adams, program coordinator for the Commercial Arts and Pottery programs at PTC.
In the near term, PTC also plans to add a variety of pottery classes through its Continuing Education division to increase accessibility to the program for those with a casual interest, and for advanced students who'd like additional instruction.
Our goal is to open classes again beginning Fall 2012, after a full-time instructor has been hired and has had time to review the curriculum.
–