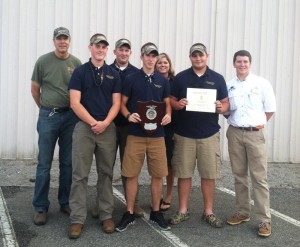 The 2012 State FFA Agronomy Career Development Event was held on Saturday April 21, at the State Fairgrounds in Columbia.
The Agronomy CDE is a competitive activity that allows students to apply classroom knowledge to real-life situations. Participants' knowledge of agronomic sciences was tested through several levels of competition including developing solutions for problematic scenarios; identification of seeds, insects, soil and crops; and other management practices.
The Thurmond FFA Chapter placed 2nd in the State Event. Team members include Andrew Wilhelm, Trent Miller, Robbie Guess and Ryan Thurmond. Andrew Wilhelm, a senior at ST was also named the 3rd place high individual for the contest. Their Advisors are Darla Steele and Dan Henderson.
A very special thank you to Mr. Hugh Bland, Aaron Wood and Piedmont Tech for helping with this event.
The National FFA Organization, formerly known as the Future Farmers of America, is a national youth organization of 523,309 student members – all preparing for leadership and careers in the science, business and technology of agriculture – as part of 7,487 local FFA chapters in all 50 states, Puerto Rico and the Virgin Islands. The National FFA Organization changed to its present name in 1988, in recognition of the growth and diversity of agriculture and agricultural education. The 84th National FFA Convention is held Oct. 19-22, 2011 in Indianapolis, Ind., and will draw 50,000-plus FFA members, advisors and guests from across the country. The FFA mission is to make a positive difference in the lives of students by developing their potential for premier leadership, personal growth and career success through agricultural education.