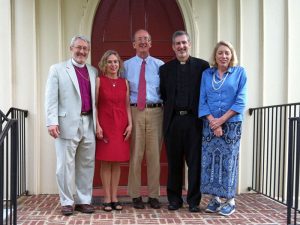 The Right Reverend Andrew Waldo, Eighth Bishop of the Episcopal Diocese of Upper South Carolina, made his annual visitation today, June 24, to the Episcopal Church of the Ridge.
One new communicant was received into the Episcopal Church as the entire congregation renewed their Baptismal Covenant during service at Trinity Episcopal Church in Edgefield.
Bishop Waldo preached a sermon likening David's faith in the slaying of Goliath to the uphill struggle that is faced fighting poverty, illiteracy, and disease at the Diocese's mission in Cange, Haiti. Bishop Waldo's message was, through faith, even the most daunting of tasks can be overcome.
The Episcopal Church of the Ridge is one congregation of Episcopalians, which rotate services between three historic church buildings, Grace Church in Ridge Spring; Our Savior Church in Trenton; and Trinity Church in Edgefield. The Reverend Tom DiMarco serves as the Vicar.
Bishop Waldo toured all three churches during his visit and enjoyed lunch with the Church of the Ridge's Mission Council (its governing body) at Juniper in Ridge Spring.