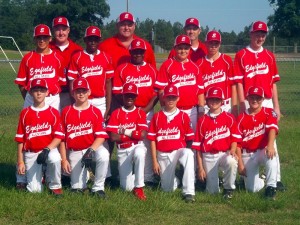 By Kaeli Wates
They say that practice makes perfect, and these boys from Edgefield are about to find out! The Major League Edgefield All-Stars have had morning practices, evening practices, batting practice, loads of scrimmages, and lots of fun.
These hardworking boys consist of Peyton Smith, Tybo Williams, Jordan Hill, Jud Childress, Britt Gossett, Turner Jolly, Greyson Moyer, Wright Moyer, Jikeal Brown, Jared Bass, William Prince, and Josh Wates.  We cannot forget the dedicated coaches:  head coach Richard Wates and assistant coaches Dean Childress and John Brown, Jr.
 The real test begins this weekend as Edgefield hosts the first round of the Major League All-Star tournaments.  The first game starts Friday night at 6, but Edgefield's first game is at 10 on Saturday morning.  Other towns with All-Star teams competing are Iva, Clinton, Saluda, and Johnston.  Head on out to the ball field to support your local all-stars!