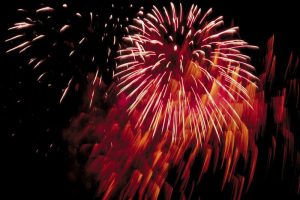 The NWTF and the Town of Edgefield hope to get the local Fourth of July celebration ignited with an early bang.
A fireworks display will provide a sky-filled sendoff to the first Edgefield Turkey Palooza, set to begin at 4 p.m. June 30 at the NWTF Wild Turkey Center. The public is invited and admission is free.
The NWTF and the town of Edgefield are the title sponsors.
"We want to make this a premier event open to everybody," said NWTF public relations and website director Brent Lawrence. "It's a way for us to show our support and appreciation to the community."
Other activities and festivities will include fishing at the NWTF pond, live bands, air gun shooting,  archery, the S.C. Department of Natural Resources' Make One Take One Virtual Hunting and Fishing Trailer, face painting, a bouncy house with an inflatable slide and hands-on pottery opportunities and displays.
"We're excited to work with the NWTF on this event," said Edgefield Mayor Ken Durham. "Thousands of people from across the area can experience everything Edgefield and the county have to offer, from great shopping and dining to our rich history in pottery and the arts."
The free admission includes access to the NWTF Winchester Museum, which includes unique historical displays, an actual U.S. Forest Service helicopter providing a virtual prescribed burn scenario, animatronic characters and a shooting game.
There will be several other crafts and games for people of all ages, including a dunking booth with local personalities. The Chevy Street Team will be on site with nine new models.
Attendees can participate in raffles and auctions for trips and products.
"It should be fun for everyone," Lawrence said. "We encourage families from all over to come share a great day with the NWTF."
A variety of food and beverages will be available. No outside coolers are permitted on the grounds. Attendees are encouraged to bring chairs.
The NWTF Wild Turkey Center is located at 770 Augusta Road in Edgefield. For more information, visit www.nwtf.org/fireworks.
Event sponsors include Wells Fargo Bank, AB Beverage, Mossy Oak, Outdoor Cap Company, Dick's Sporting Goods, Henry Rifles, Chevy, Countryside Trade Solutions and E.J. Express Inflatables, Turkey Shoppe on Main and Nationwide Insurance.
Food sponsors are Barton's Barbeque of Trenton, Marble Slab Creamery of Aiken, Coach T's Diner in Aiken and Wally's Kettle Treats. Media sponsors are WJBF-TV Channel 6 in Augusta, radio station WKSX 92.7 and Insite MediaCom.