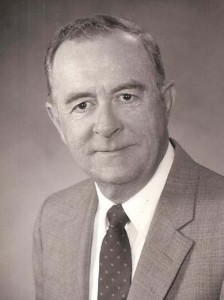 JOHNSTON, S.C. – Graveside services for Ellerbe Orin "Sonny" Dukes will be held at 5:00 P. M. on Saturday, July 21, at Spann Cemetery in Ward, South Carolina.  Mr. Dukes died at Edisto Island on Wednesday, July 18, 2012.
Born in Augusta, Georgia, on November 5, 1931, he was the son of the late Ellerbe Orin Dukes, Sr. and Frances Faulkner Dukes. He was a 1954 graduate of Clemson University.
Following graduation, he served in the Army, first as a 2nd lieutenant in the Tank Company, 19th Infantry, 24th Division and later as aide-de-camp to General Briard P. Johnston in Seoul, Korea. This job afforded him many interesting experiences. He often spoke of hearing firsthand stories by generals who once served as officers under the colorful General George Patton of World War II fame.
Mr. Dukes retired as chief supervisor of employment at Dupont in Aiken, South Carolina.
He was a member and past board chairman of Johnston United Methodist Church. Always active in civic and cultural activities, he served as mayor-pro tem of Johnston City Council for 16 years. He was later a member of the Edgefield County Council, serving as vice-chairman.
Mr. Dukes was a member of Kadosh Masonic Lodge #181, Ridge Heritage Association, Edgefield County Chamber of Commerce, Pine Ridge Country Club, Ridge Fishing Club, The Cotillion Club, and past member of the Johnston Jaycees and the Lions Club. He served on the boards of Wardlaw Academy, Edgefield County Hospital, McCormick County Arts Commission, and Johnston Development Board. Mr. Dukes served for many years as Edgefield County representative for Clemson University IPTAY.
Mr. Dukes is survived by his beloved wife, Anne Eidson Dukes; by sons, David Eidson Dukes (Karen) and Mark Clinton Dukes (Ellen); by grandchildren, Parker Eidson Dukes, Elizabeth Ward Dukes, David Eidson Dukes, Jr., Bailey Elizabeth Dukes, William Wesley Ward Dukes, and Mark Rawlin Dukes, all of Columbia; and sister and brother-in-law, Carolyn and Dick Wood of Beech Island.
Family will receive friends at Spann Methodist Church following the service. In lieu of flowers, memorials may be made to Johnston United Methodist Church, Post Office Box 186, Johnston, South Carolina 29832 or Clemson Foundation, Post Office Box 1889, Clemson, South Carolina 29633.
Please sign guestbook and send condolences to family at www.blandfh.com
Bland Funeral Home is in charge of arrangements.