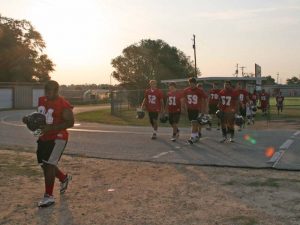 Edgefield County Schools 7/26/2012: Strom Thurmond High School released its football schedule this week.  The regular season calls for the Rebels to play five (5) games at home and five (5) games on the road. Additionally, the team will play in at least two (2) pre-season scrimmages and the traditional jamboree.
The first game of the year is drawing unprecedented attention.  On August 17, the Rebels will host Eastern Christian Academy which is a high school located in Elkton, Maryland.  Eastern Christian Academy is a high school that travels across the country to play outstanding high school teams to help its players receive national attention.  One source has indicated that this team currently has eight Division 1-A college prospects and that many of the players on the team have already received offers to play for colleges rich in football history. Without question, this team will pose a tremendous challenge for the Rebels.
Head Football Coach Lee Sawyer commented "This is a tremendous opportunity for our team. Eastern Christian Academy has the most college prospects on its team than any team we have ever played.  We will have to grow up in a hurry since it is our first game of the season".
Playing Eastern Christian Academy was made possible when Lucy Laney informed Athletic Director Louis Scott that it no longer wanted to play Strom Thurmond.  When Coach Scott received this notification, he immediately went on an all out search for a replacement.
Athletic Director Louis Scott commented "We did the usual postings including a notification on the internet that we were looking for a team to play.  We were quickly contacted by Eastern Christian Academy and we began working out the details".
Athletic Director Scott was able to negotiate a contract which provided Strom Thurmond would not have to bear any expense except for providing Eastern Christian Academy with a meal for the team.  Strom Thurmond will retain all gate receipts.
Scott further commented that he hoped this game would provide national exposure for the Rebels and that fans would turn out in record numbers for this game.
It is believed that this is only the second high school team Strom Thurmond has played that is located outside the State of South Carolina.  "This is a high profile high school football team.  By playing Eastern Christian Academy, we hope that we can obtain valuable experience playing against so many quality athletes and we also hope that it will generate a tremendous amount of fan interest". Scott further commented.
Related: Mysterious Football Team Coming to STHS