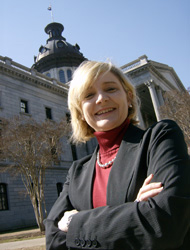 A story that was spread abroad throughout the media last week was an interview with Miss South Carolina and Ashley Byrd who was designated in the article as "Miss S.C.'s president and executive director."
"That is not our Ashley Byrd," the answer given by Anne and Buzz Byrd of Edgefield, parents of "our Ashley Byrd" who grew up on Buncombe Street in Edgefield. They got a number of calls, as did her aunt Beth Byrd, asking, when did Ashley become director for the Miss South Carolina pageant?
"Our Ashley" does hold a distinguished title for her job at South Carolina Radio Network. She is News Director, and can be heard not just in Columbia, but on the wire from Augusta and Johnston, sometimes during the news hour.
Ashley began her radio career working college summer breaks for a radio affiliate to the SCRN.  She got her degree in Political Science at USC and has won national and state recognition in every medium, including a national EMMY nomination.
Ashley is a 1981 graduate of  Wardlaw Academy in Edgefield County.