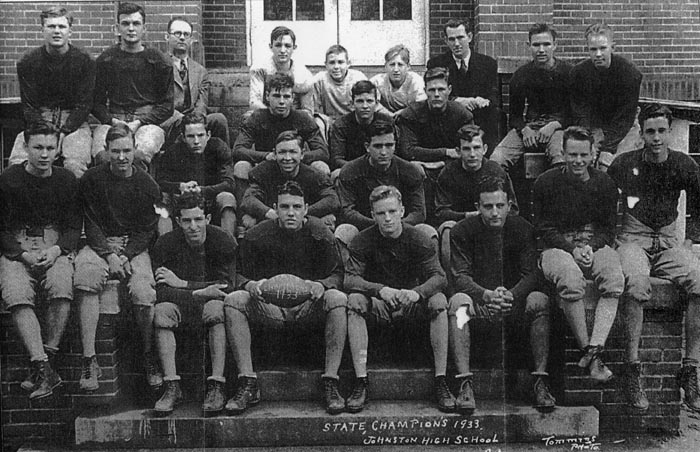 Johnston High School Football Team won the state championship in 1933.  They did it again in 1937 and again in 1959.  There is no Johnston High School since 1961, but the athletic prowess spawned in Johnston continues at Strom Thurmond High School, the Edgefield County public high school that last won the state championship in 2005.  So the story carries on.
Recently, signs have been placed at entrances to Johnston that tell the story of the three state championships.  Johnston honors its teams with pride.
The photo that accompanies this story, along with this article, shows the team in 1933.  Members and coaches of that winning team posed outside the school with their signed football.  All are identified from left to right, many the ready will easily recognize and remember.  Sitting on the front step are: Ben Herlong, E. D. Stillwell, Van Edwards and Robert Stillwell.  Sitting on the lower columns fo the left and right are Roy Leapord, Doc Clark, Robert Clark and T. D. Watson.  Sitting on the second step are David Waller, Pete Bruce, Clyde Yonce and Billy Derrick.  On the third row are Albert Clark, Ernest Padgett and John Yonce.  Carl Black, Hansford Rhoden, Horace Holmes and Billy Turner are sitting on the upper columns.  Those sitting on the top step are Coach Stanton Lott, Carrol Smith, Earl Stillwell, Noland Leapord and Hugh Culp.
See more about this group of players in "Days Gone By" in an upcoming print edition of The Edgefield Advertiser.