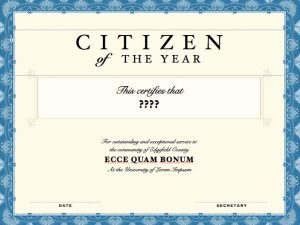 Citizen of the Year & Teacher of the Year Selections
Edgefield County School District and Edgefield County Chamber of Commerce announce that it's that time of the year again to acknowledge "Citizen of the Year" and "Teachers of the Year," "Support Staff of the Year," and our "District Teacher of the Year," as well as "District Support Staff of the Year."  Celebration of Success 2012 will be held, Tuesday evening, September 4, beginning at 6:30 p.m. in the Strom Thurmond High School cafeteria.  Entertainment at this year's event is to be announced at a later date. Tickets for this year's event can be purchased at the Edgefield County Chamber of Commerce (275-0010), the Edgefield County School District office (275-4601), or from any school principal.  Deadline for ticket sales is Friday, August 31.
The Edgefield County Chamber is searching for the 17th Annual Chamber of Commerce's Citizen of the Year. Citizens who know someone who deserves this award (good leadership or community service role, volunteer work, etc), please fill out an application form (call the Chamber office for nomination form) and return it to the Chamber office by Thursday, August 30. The Citizen must be a resident of Edgefield County.
Past winners of the award include:  Watson Rhodes, Dixie Rucker, John Timmerman, Tim Campbell, Jackie Boatwright, Bettis Rainsford, Ken Durham, Anne Dukes, Mr. & Mrs. Weston Brazell, Rev. Kevin Cooley, Lynn Rearden, Helen Carpenter, Andy Livingston, Jimmy Painter, Dr. Wiley E. "Buddy" Turner and last year's winner Anna Timmerman. As you can see we have a wide range of community involvement in our past winners.
The Chamber asks for support with nominations for the Citizen of the Year. They need everyone's input from the county in order to choose the best candidate(s) for the title.
Teachers of the Year and Support Staff from each school – announced below — will be recognized and then the district wide Teacher of the Year and Support Staff will be presented following judging of portfolios and interviews. Merriwether Elementary – Carolyn Gilchrist & Gladys Spires; Johnston Elementary – Melinda Taylor & Melissa Swiger; Douglas Elementary – Breslin Steverson & Lynn Foster; WE Parker Elementary – Jenny Yonce & John Jackson; Merriwether Middle – Rewa Milton & Charles Maxfield; JET Middle –June Wall & Marjorie Bibbs: STHS – Patricia Woods & Jennifer Lanham: FCHS –Meredith Harris & Teri Mayson; STCC – Teresa Lilly & Leroy Turner; District Office –Beth Seigler (support staff)
The Edgefield County Chamber of Commerce and the Edgefield County School District state: "We appreciate your support and look forward to another great Celebration of Success."
 http://www.edgefieldcountychamber.org