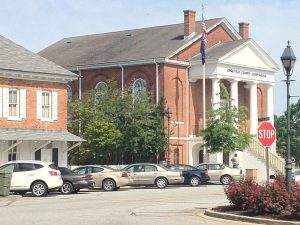 Gives First Reading to Highway Access Plan
The Edgefield County Council heard a presentation of the Highway Overlay District by Roger LeDuc at their regularly scheduled monthly meeting Tuesday, Aug. 7.  This plan was approved and recommended by the Planning Commission at their July 2012 meeting and was set to focus on Martintown Road from the city limits of North Augusta to Woodlawn Road and Murrah Road from Sweetwater Road to Martintown.  However, Council decided to strike Murrah Road from the plan so that it will now only focus on Martintown Road.  This project places specific guidelines for signs, open space, parking, buffering, architecture, landscaping, etc. for all new construction and major expansion or developments (other than single family residential developments) that wish to locate in this area.  As Mr. LeDuc explained to Council, this is an "overlay" in case commercial development eventually comes to this area.  He said that it will allow developers to develop with guidelines provided by Council.  Further, it would apply presently only to the designated areas, but could apply to other areas within the county in time if Council so desired, as roads can be added or removed once the ordinance has been passed.  Council will take up this measure with a first reading at their next monthly meeting.
Council passed on first reading the Highway Access Plan that is designed to establish standards and set limits on driveways, acceleration/deceleration lanes, and inter-parcel connections in order to improve highway safety throughout the county.  Mr. LeDuc addressed Council on this measure, as well, and explained that this plan came about in response to the large numbers of driveways entering into busy highways and roadways throughout the county.  In an example he gave to Council, Mr. LeDuc demonstrated how currently a piece of property 500 ft. in width could sub-divide and have as many as six or more driveways coming from it.  Under this proposed plan, that number would be limited.  In another example, he cited the new Gregg's Gas Plus gas station that has recently opened near the interstate on Martintown Road.  Mr. LeDuc noted that the entryway into this location is quite wide, but under this plan, the entryway would have been narrower.  Additionally, with this plan, which was also approved and recommended by the Planning Commission at their July meeting, the access management will apply only to new developments, renovations, or expansions that exceed 50% of the appraised value of the development.  Council voted unanimously in favor of this measure.
Council also voted unanimously to approve on first reading an ordinance amending the county's building code.  This was a necessary undertaking by Council to comply with state law.  It in essence will not change the way the county has been operating in regards to these matters but will ensure that the correct wording is now in the county's ordinance, as the state has adopted international building code laws.  Mr. Ashcraft did comment on the international aspect of this law as he shared it may leave the county at the mercy of international codes specifically in regards to energy conservation.  He shared that he just wanted to point this issue out so that citizens will be aware of it.
Council approved a resolution that reconfirms the filing fee when submitting a building code appeal.  This resolution does not change the filing fee, which is $100 per appeal, but simply serves to clarify the charge.  This measure passed in a 3-1 vote. (Only four members present to vote; Councilwoman Blackwell was absent due to family illness.) In explaining his no vote on this measure, Mr. Dorn said, "I'm not voting for any fees to charge against citizens…period."
Council voted to approve the Capital Improvement Projects as approved by the Planning Commission.  This plan sets forth certain capital improvements that will need to be addressed by Council over the next 5 years.  These measures will each be voted on individually during the budgetary process.  Administrator Lynn Strom reminded Council that approval of this plan does not appropriate money for these items; it is just a plan whose projects' funding will be figured out at a later date.  This measure passed in a 3-1 vote with Mr. Dorn voting negatively.
Dealing with a bit of old business, Council held a second reading of an ordinance to adopt a modified version of the Parliamentary Procedures for SC as published by the SC Association of Counties.  Mr. Bright queried what would happen with the old ordinance pertaining to this matter and was advised by County Attorney Michael Medlock that the new ordinance has a repel of the old within it.  While the ordinance passed unanimously on first reading at the July 10 meeting, it passed in a 3-1 vote this time.  Mr. Dorn's was the negative vote.
Due to scheduling conflicts, Council unanimously decided to change the date of next month's meeting to Sept. 10.
As is customary near the close of Council meetings, Mrs. Strom gave her Administrator's report to Council in which she stated that building permits have increased this year.  The total value of the first six months of this year surpassed $13 million as opposed to a total value of $14.5 million for all of last year.  Mrs. Strom also updated Council on the matter of a nuisance lawsuit against a resident of Cessna Lane.  She said that the defendant in this matter has been served with the necessary legal documents regarding this suit.  In matters expected to be taken up at Council's next meeting, Mrs. Strom said Council will be presented with a mobile home permitting ordinance and may also need to explore alternant sites for the proposed animal shelter.  In regards to the shelter, Mrs. Strom explained that the county has been notified that the facility will need to have two septic systems; one for human waste and one for animal waste.  The present location (behind the County Shop off Weaver Road) may not accommodate this.
In his closing comments to Council, Chairman Campbell reminded Council of the remaining called meetings of the Council's "Field Trips."  He did note that the scheduled meeting with the school board has been changed to Sept. 11 at 7:00.  Before adjourning Mr. Campbell also advised Council that Force Protection has invited Council to their facility to view the work done there and receive an orientation by the company.  No word was given, however, as to when this visit might take place.
-Tiffani Ireland