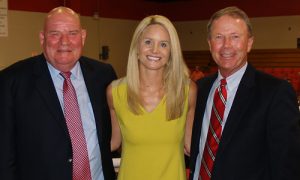 NEWBERRY, S.C. – Newberry College alumni Katey Satcher Felts, Dennis Swygert and Tom Williamson were inducted into the Newberry Athletics Hall of Fame at the College's annual Welcome Back dinner in Eleazer Arena on Thursday evening.
The trio will also be honored at halftime of the September 1 football game vs. Elizabeth City State.
KATEY SATCHER FELTS
Katey Satcher was one of the most successful female athletes at Newberry College in her time playing basketball and softball for the Lady Indians from 1997 to 2002.
She played basketball for her freshman year and part of her sophomore year before a knee injury limited her to one sport.
Katey played 205 consecutive games at shortstop for the Lady Indians' softball team, only missing the first eight games of her freshman season because of basketball season.
She was First Team All-South Atlantic Conference in 2001 and 2002 and Second Team All-South Atlantic Conference in 2000.
In her senior season she led the conference with a .430 batting average, six triples and sixteen walks.
She finished her career with a .380 batting average, 84 RBIs, 45 walks and 21 stolen bases in 22 attempts.
Katey was also a standout in the classroom, becoming the first Newberry student-athlete to be named a CoSIDA First Team Academic All-American. She was also an eight-time honoree on the South Atlantic Conference Honor Roll and was a 2002 nominee for NCAA Woman of the Year.
She was a four-year Dean's List member and received both the W.L. Laval and Algernon Sydney Sullivan awards in 2002.
After graduating summa cum laude in 2002 with a degree in psychology, Katey went on to receive her master's in speech language pathology from the University of South Carolina, graduating with the most outstanding student award in 2004.
She now lives in Georgetown with her husband Jase Felts and daughters Satcher and Mary Miller.
Katey is the daughter of Harriet Holmes Satcher of Trenton and the late Jim Satcher. She is a graduate of Strom Thurmond High School.
DENNIS SWYGERT
Dennis Swygert came to Newberry College in 1964 and played four years of football for the Indians, with a two-year stint as a sergeant in the United States Army in between.
He was a formidable force at end, playing both ways. Swygert was named All-Carolinas Conference in 1965, 1966 and 1969. He was an all-NAIA District Six selection in 1966, and also made the All-State and Honorable Mention Lutheran All-American team that season as the team's leading receiver.
After Newberry, Swygert entered the coaching ranks starting with assistant coaching positions at Chester, Northwestern, Berkeley, Cainhoy, St. Stephens, Summerville and Fort Dorchester High Schools.
He earned his first head coaching position at Stratford High School in 1983. He was also head coach at Berkeley High School from 1989 to 1992.
Swygert is most recently known for his work as volunteer assistant for the Wolves' football team since 2009. He has become known as a great motivator and teacher of young men.
He has been married to Jan Bennett since 1979 and is the proud father of Bennett, Amanda and Christian.
TOM WILLIAMSON
Tom Williamson came to Newberry in 1970 after a stellar high school career at Thomson High School in Georgia, where he was all-state in football and baseball and helped lead the football team to two state championships and a 34-1 record in his time there.
He was the all-around player on the football field for the Indians starting four years at quarterback and doing all of the placekicking and punting as well.
At the time of his graduation, Williamson was the career record holder in every passing category with 203 completions on 466 attempts for 2,723 yards and 17 touchdowns, all while directing a triple option offense. He was just the fourth person in Newberry football history to have over 1,000 yards of total offense in one season.
In his senior season he was a team captain, all-NAIA District 6, all-state and honorable mention Lutheran All-American.
He was also a relief pitcher for the Indians' baseball team for two seasons.
Tom met his wife, Debbie, at Newberry College and the couple has three children – Blake, Eric and Jenny. He now owns his own insurance agency in Anderson and enjoys golf, running, gardening and spending time with his grandchildren.