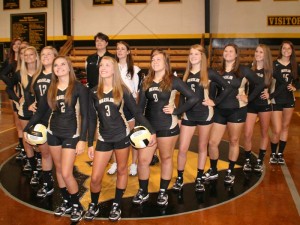 By: Gerald Doolittle
Next week the Wardlaw Academy Lady Patriots of Coach Kathy James are setting off on another winning journey toward region and state titles. Last year the Lady Patriots won their region but fell short in the state playoffs as they were eliminated by eventual champion Palmetto Christian.
This year there will be a new SCISA Class A Champion as Palmetto Christian has moved up to Class AA this year.
SCISA Region 2-A also will have a new look this year with Glenforest, Mead Hall and Cambridge competing at the varsity level.
"This season we will be playing one of our toughest schedules and yet hope to make a run deep into the playoffs,"said Coach James.  "We return all players from that team and have three freshmen and a transfer student.  We will be led by a seasoned group of seniors in Laura James, Madlyn Medlock, Lilli Pendarvis, Kathryn Ginn and Marisa McKnight who hope to finish out their career on top."
The Lady Patriots will have good leadership both offensively and defensely from last years Region MVP, Lauren Williams. The junior covers play at the net very well.
The new player, Marisa McKnight, will make an immediate impact in the middle with outstanding court vision and the ability to put the ball down for the kill.
Pendarvis, Ginn, James and Nicole Jackson look to secure the defense for the Lady Patriots which in turn allows the offense to explode.
Sophomore Katie Warnken has grown in height this summer which will help her not only lead the offense as setter but also a force on defense at the net.
Senior Madlyn Medlock and freshman Carlie Anne Carr will add fire power to the potent offense. Mara Brumbaugh, Bea Faust and Lauren Hammett will provide a deeper bench than in years past.
This past Saturday the Lady Patriots finished 3-1 at the Newberry Jamboree at Newberry College. They scored wins over Anderson Christian, Newberry Academy and Coastal Christian. Their only defeat was to Florence Christian.