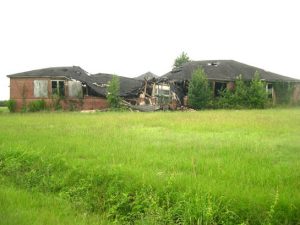 The Advertiser was advised on Monday that the old Central School, positioned on the right of Hwy 191 if traveling toward Eureka, had fallen in during the weekend, bringing attention to a landmark that has been there since early in the 20th century.
According to Jerry Scott's book, Rural Schools in Edgefield County, SC, the land was originally the old Lott School District and the trustees sold some of the land to George Bell Timmerman, in 1928. In 1952, the Johnston School District sold 5 acres  to J. W. Franklin.  The property has been passed down through the family and now John Kelly is the owner.
According to Mrs. Scott, "In 1930, Central was a 'more than 3-teacher school,' and had 102 pupils.  Mr. W. S. Sawyer was principal; other teachers were Miss Mattie Stalnaker, Grace Brodie, Dorothy Williams, Ruby Herlong, and Mrs. Toney."
Should this incident stir any memories of the school or community named for it, the Advertiser would welcome readers' comments.