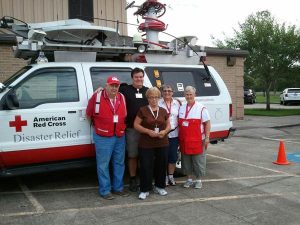 21 local volunteers are on the ground in the Gulf Coast helping with Red Cross relief efforts
AIKEN, SC, AUGUST 30, 2012 – The American Red Cross, Columbia Region has deployed a shelter team of five volunteers to Lafayette, LA to help with relief efforts after Hurricane Isaac caused great damage and flooding along the Gulf Coast.
In total, the Columbia Region has deployed 21 volunteers and expects that number to continue to grow. Additional local volunteers and five Emergency Response Vehicles are on stand-by, ready to deploy if needed.
"This is a very large relief response that will last a long time," said Lindsay Findley, executive director, American Red Cross Aiken County Chapter. "The Red Cross will be working for weeks to help people recover from Isaac.  After a difficult summer of responding to wildfires, power outages and floods, Red Cross resources are stretched. We ask that the American people support the Red Cross today by making a financial donation to support our relief efforts."
Last night, more than 4,700 people stayed in as many as 80 Red Cross or community shelters in seven states.
More than 3,000 trained Red Cross disaster workers from all over the United States have deployed to the Gulf region to help.
As of Wednesday night, the Red Cross has served more than 22,000 meals and snacks and has 311,000 more ready-to-eat meals and kitchen support trailers in the area.
Before Isaac struck, the Red Cross positioned 197 emergency response vehicles, additional volunteers and trailers of relief supplies just outside the impact area; we have begun to move assistance into the affected communities.
In the days ahead, the Red Cross will be providing people with food, water and supplies such as clean-up and personal hygiene items, cots, blankets, coolers, shovels, rakes, tarps, gloves and masks.
You can help people affected by disaster like hurricanes, floods and wildfires, as well as countless crises at home and around the country, by making a donation to support American Red Cross Disaster Relief. Your gift enables the Red Cross to prepare for and provide shelter, food, emotional support and other assistance in response to disasters.
The American Red Cross, Columbia Region, spans 28-counties in South Carolina from Aiken to Myrtle Beach.
About the American Red Cross:
The American Red Cross shelters, feeds and provides emotional support to victims of disasters; supplies more than 40 percent of the nation's blood; teaches skills that save lives; provides international humanitarian aid; and supports military members and their families. The Red Cross is a not-for-profit organization that depends on volunteers and the generosity of the American public to perform its mission. For more information, please visit redcross.org or join our blog at blog.redcross.org.