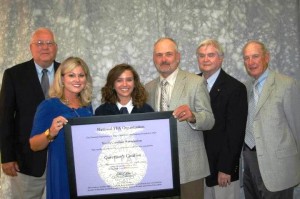 The Strom Thurmond FFA Association is no stranger in the FFA world. The student organization is known across South Carolina for their achievements both inside and outside of the classroom and this year has been no different.
The group has once again taken both top state and national honors for their work in the 2011-2012 school year.
In June the Strom Thurmond FFA Chapter was named a National FFA Gold Emblem Chapter in South Carolina out of over one hundred FFA chapters across the state. They also took home the prestigious South Carolina Governor's Citation for Community Development, naming them the top FFA chapter in the area of student development for South Carolina.
And just this month the Strom Thurmond FFA Association was selected by the National FFA Organization from a national pool of more than 7,400 National FFA Chapters as a 3-Star Gold Emblem Chapter, the highest ranking that an FFA chapter can receive on the national level. Strom Thurmond was selected as one of only three hundred and eleven chapters nationwide to receive this honor placing them in the top 4% of FFA chapters across the nation.
This award program is a special project of the National FFA Foundation. The National FFA Chapter Award program recognizes FFA chapters for developing and conducting a detailed Program of Activities (POA). Each activity provides opportunities for members to excel in one of three areas: student, chapter, or community development. Every year, chapters are recognized as having earned a one-, two- or three-star rating on their application. The three-star rating is the highest level of accomplishment a chapter may achieve.
The National FFA Organization, formerly known as the Future Farmers of America, is a student organization set up by the United States Education Department in Washington, D.C. The FFA is an integral part of the high school agriculture department. The Strom Thurmond Agriculture Department offers courses and internship opportunities in the areas of agricultural science, wildlife management, horticulture, agricultural mechanics, and forestry. The Strom Thurmond FFA Association had over 125 members this past year and participated in over 100 activities outside the classroom that complemented all the skills students learn in the classroom. All of the hard work and dedication by the students and teachers helped the Strom Thurmond FFA Association to achieve top rankings on both the state and national level.
For more information regarding the agriculture program at Strom Thurmond
Career Center, contact Darla Steele or Jeremy Brooks at the career center, (803) 275-1767 or visit the agriculture program website at www.stromthurmondffa.com.