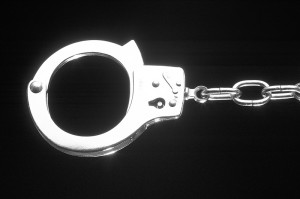 Edgefield County Deputies responded to a call at Taylor Nursery off Airport Road in Trenton Tuesday morning, Aug. 7, where they found evidence of an attempted theft.  Aluminum pipes that were in a field at the tree nursery were found sawed in half in an apparent attempt to make the 20-30 ft. long pipes easier to transport.
Shortly after responding to this call, the ECSO received a call of a suspicious man near a home on Hwy 121.  The man, who the ECSO already had warrants on for burglary and petty larceny, was apprehended by deputies for the attempted theft at Taylor Nursery as credible evidence found at that crime scene linked the suspect to the attempted crime.
Additionally, the suspect was believed to have been under the influence of some kind of drug at the time of his arrest.  The ECSO does believe there was at least one other person involved in the nursery crime.  However, that person has yet to be identified.
The investigation into this crime is ongoing and anyone with information is asked to call the Sheriff's Office at 637-5337.