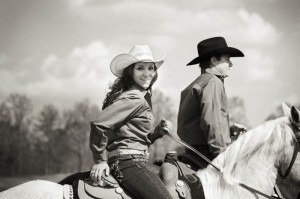 Taylor Earnhardt Putnam, a competitor in the Southern Rodeo Association, the rodeo at Lazy J Arena in Edgefield County, S.C., this coming weekend (Aug. 24,25), has a name of interest that speaks to an inheritance of speed and passion for competition.
Born the youngest daughter of Dale and Teresa Earnhardt, Taylor has a winning and a competitive spirit in her blood. With a love of speed, Taylor continues to carry on the tradition of the family name to the winner's circle, only she prefers fast horses to horsepower.
From the young age of 3, Taylor Nicole Earnhardt gained a love of horseback riding and the great outdoors from her father, 7 time racing Champion Dale Earnhardt.
Taylor began competing in the Junior Southern Rodeo Association (JSRA), the Southern Rodeo Association (SRA) and the National Barrel Horse Association (NBHA).  In 2002, she earned the title of North Carolina NBHA Champion and again in 2003 she earned top honors as Champion of the Southern Rodeo Association.
In 2008, Taylor won the coveted World Champion All-Around title at a racing event in Marshall, Texas, and soon after took honors at the highly acclaimed All-American barrel race in Jackson, Mississippi.  It was at this time that Taylor met her new husband, Brandon Putnam, a fellow rodeo competitor at his calf-roping event.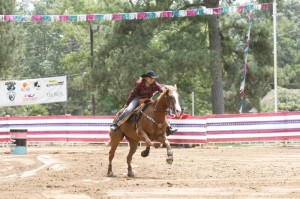 Taylor took her career to the next level in 2009, when she had the opportunity to travel to London to participate in a prestigious equestrian training program with the Ross Nye Stables.
When asked why she loves horses: "My whole family likes going fast," says Taylor Earnhardt. "Everybody else runs on 800 horsepower, I run on one."
Taylor has interests, other than speed and competition, stemming from her family.  She speaks for The Dale Earnhardt Foundation, established 2002.  The mission of The Dale Earnhardt Foundation is to "Continue The Legend" and legacy of Dale Earnhardt: it is committed to children, education and environmental/wildlife preservation through charitable programs and grants.
For those wishing to know more about the upcoming rodeo: Sandi/Wesley Quarles, 803-637-5376; 803-480-0045. Also sandyoaksprorodeo.org