Washington, DC — South Carolina Congressman Jeff Duncan achieved a major legislative victory on Wednesday afternoon after one of his bills, the Countering Iran in the Western Hemisphere Act (HR 3783), passed the full House with unanimous support. Duncan's legislation addresses a growing concern among security experts that Iran is increasing its sphere of influence in Latin America. The legislation passes the House of Representatives just two weeks after an Israeli news organization revealed that Iran has established a Hezbollah terrorist training base in northern Nicaragua, and one week after the media reported that three suspected Hezbollah terrorists were arrested in Merida, Mexico.
"One of the ways we can honor the memory of those who lost their lives during the War on Terror is to be vigilant in protecting against new threats here at home," said Duncan. "In the shadow of Iran's growing nuclear ambitions, there's another threat emerging of an Iranian-backed terror network in our own hemisphere."
"From the deployment of an Iranian television network in Latin America, to Iranian President Mahmoud Ahmadinejad's frequent trips to the region; Iran's made their interest in the region well known," said Duncan. "Recent developments including arresting suspected Hezbollah terrorists in Mexico, and evidence showing terrorist networks potentially working closely with Mexican drug cartels is even more disturbing."
With Duncan's bill clearing the House of Representatives without a single Democrat objection, the legislation has a chance of passing out of the United States Senate.
"Iran's actions in our neighborhood represent a real threat to our safety and security," said Duncan. "This bill provides the first step to countering Iran's hostile presence right here at home, and I'm hopeful that this measure will move quickly through the Senate."
Duncan's legislation:
This legislation establishes a strong U.S. posture, policy, and relationship with Latin American countries
Protects U.S. interests and assets in the Western Hemisphere such as embassies, consulates, businesses, energy pipelines, and cultural organizations, including threats to U.S. allies
Addresses the vital national security interests of the United States by ensuring that energy supplies from the Western Hemisphere are free from the influence of any foreign government that would attempt to manipulate or disrupt global energy markets
Requires a secure U.S. border with the U.S. working in coordination with the governments of Mexico and Canada to prevent Iranian operatives from entering the U.S. Counters efforts by foreign persons, entities, and governments in the region to assist Iran in evading U.S. and international sanctions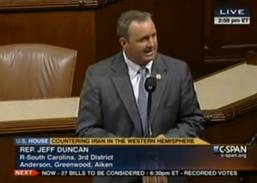 (Click HERE to watch Rep. Duncan's Floor Speech)