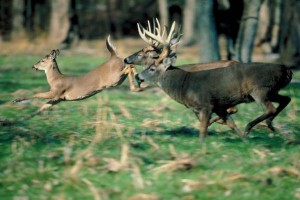 Youth who are age 10 through 17, would you like to go deer hunting this fall but don't have anyone to take you? Would you like for the hunt to be somewhere nearby where there are lots of deer? Would you like for this event to be carefully supervised and for a responsible adult to become your "mentor" and help teach you how to hunt effectively, safely and ethically?
The S.C. Department of Natural Resources (DNR), in cooperation with a number of private individuals, businesses and hunting clubs, is co-sponsoring a number of youth deer hunts in the Piedmont region this fall.
Young sportsmen and sportswomen, and their parents and guardians, who think they might like to attend one of these special youth deer hunts this fall are encouraged to write or call for an application today. The deadline for returning applications is Monday, Sept. 17. You may get applications from the Union DNR office, 124 Wildlife Drive, Union, SC 29379, telephone (864) 427-5140, fax (864) 427-8460; or the DNR Columbia office, PO Box 167, 1000 Assembly St., Columbia, SC 29202, (803) 734-3886; or download an application from the DNR website.
These youth hunts will be a part of the DNR's Take One Make One special youth deer hunts and are scheduled at the following sites:
Oct. 20—Union County, Laura Lyn Farm
Oct. 20—Union County, Chufa Ridge Farm LLC
Oct. 20—Laurens County, Johnson Farm
Oct. 20—Laurens County, Brownlee Farm
Nov. 10—Spartanburg County, Horseshoe Falls Hunt Club
Nov. 10—Spartanburg County, 10 Point Hunt Club
Nov. 10—Spartanburg County, Yelton Farm
Nov. 17—Cherokee County, Broken Arrow Hunt Club
Dec. 15—Union County, Trophy Buck Hunt Club
Dec. 15—Laurens County, The Clinton House Plantation
"DNR is specifically looking for young people who have an interest in hunting but don't have anyone to take them," said Gerald Moore, DNR wildlife biologist based in Union. "These special hunts are designed for a growing number of youth today who don't have a parent, relative or close friend that hunts and can provide them proper exposure to the hunting experience. As a result, many of today's young people are missing out on a challenging and enjoyable recreational activity."
Sportsmen's children are welcome to apply for the hunts, but preference will be given to those who have limited hunting experience.
On the day of the hunt, participants will be required to complete a short training course on gun safety and go to the rifle range and fire the gun they will be using during the hunt. Appropriate firearms will be provided for those who need them. An adult will accompany each youngster at the rifle range and during all hunting activities. A meal will be provided by the sponsors after the hunt for all youth and their parents.
There are no costs associated with these special hunts, but parents or a guardian must provide written permission for their youngster to attend and must sign a liability wavier form and provide transportation to and from the event. Adults sitting in the stand with a youth must have a valid hunting license and big game permit. Youth who are age 16 or 17 will be required to have a Junior Sportsman's License or a onetime Apprentice License that waives hunter education requirements for one year.