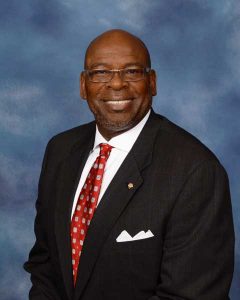 Jonathan Holston is second African-American in the position
Bishop L. Jonathan Holston is the new resident bishop of the South Carolina Annual Conference of The United Methodist Church.
Holston took the role on Sept 1.  The most favored episcopacy candidate in the elections at the 2012 Southeastern Jurisdictional Conference, he was overwhelmingly elected on the very first ballot.
Holston is married to the former Felecia Brown.  He and Felicia have two grown children: son Karlton and daughter Brittany.
Holston earned his Master of Divinity in biblical studies from The Interdenominational Theological Center, Gammon Theological Seminary, Atlanta, Ga., in 1983.  He also holds a Bachelor of Arts in religion from the University of Georgia in Athens, Ga.
Coming to South Carolina from the North Georgia Conference, Holston served as senior pastor of St. James United Methodist Church in Atlanta for seven years before his episcopal election. Prior to that, he served as superintendent of the Atlanta-Decatur-Oxford District from 1997-2005.
Holston has served on numerous UMC boards and committees of The United Methodist Church at the conference and general church level.  Holston served as a member of the General Council on Finance and Administration, chair of General Conference Finance and Administrative Legislative Committee and as a member of the United Methodist Board of Global Ministries, the Southeastern Jurisdictional Committee on Episcopacy, Hinton Rural Life Center, Appalachian Development Committee and the Southeastern Jurisdictional Association for Native American Ministries, among other noted roles.
His love for missions has taken him around the world and gained him the recognition as a mission specialist in the North Georgia Conference Council of Ministries.  In his work as conference disaster relief coordinator, Holston served on the United Methodist Committee on Relief, on the Catastrophic Disaster Response Team and as the Church World Service disaster consultant in Georgia. He has traveled extensively as a specialist in missions to Uganda, Costa Rica, Haiti, Honduras, Zimbabwe, Kenya, India, China and Hong Kong.
Holston was a delegate for General Conference in 2000, 2004, 2008 and 2012.  He served as delegate for Jurisdictional Conference in 1996, 2000, 2004, 2008 and 2012.  In 2001 and 2005 he was a delegate for the World Methodist Conference.
Previous appointments include associate director of the North Georgia Conference Council on Ministries 1992-1997, senior pastor of Clifton UMC (1986-1992) and senior pastor of Marietta Street UMC (1983-1986).
A welcoming service is planned for Bishop Holston at 4 p.m. on October 7at Union United Methodist Church in Irmo.