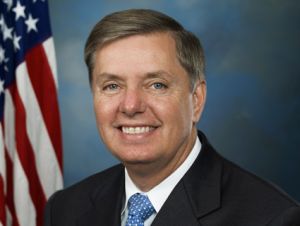 United States Sen. Lindsey Graham was honored by a coalition of conservation groups with the 2012 Conservation Excellence Award on Monday, Sept. 17, praising him for his help with protecting thousands of acres of critical wildlife habitat during the past two decades.
The resolution was presented to Graham during a ceremony held atop Sassafras Mountain, the highest point in South Carolina at 3,553 feet. Graham was the special guest speaker at the event, which announced improvements for the top of the mountain, along with important land acquisitions in the area.
"No elected official has done more for conservation than Senator Graham," said Alvin Taylor, S.C. Department of Natural Resources (DNR) director. "The citizens of South Carolina will be thanking him hundreds of years from now because of his efforts to promote habitat protection and provide outdoor recreation opportunities."
The award praises Graham for his strong support of hunting and fishing, for his habitat protection efforts statewide and for his bi-partisan support of key programs such as the North American Wetlands Conservation Act. The resolution that awarded the honor to Graham was signed by officials from DNR, The Conservation Fund, National Wild Turkey Federation, The Nature Conservancy, Upstate Forever, Ducks Unlimited and the S.C. Wildlife Federation.
"For nearly two decades, Senator Graham has nurtured and championed the vital connection between a strong state economy and its water resources, forests, cultural heritage and diverse landscapes," said R. Michael Leonard, vice chairman of the Board of Directors for The Conservation Fund. "We are grateful for his continued support of the federal Land and Water Conservation Fund and the North American Wetlands Conservation Act, which have enabled the protection of critical wildlife habitat across the state."
"The National Wild Turkey Federation sincerely appreciates Senator Graham's commitment to conservation," said Dr. James Kennamer, chief conservation officer for the National Wild Turkey Federation. "His leadership has not only had a major impact both now and for the future in South Carolina but throughout the country."
"This is a well-deserved award for a great conservation champion," said Brad Wyche, executive director of Upstate Forever. "South Carolina is a much better place because of Senator Graham's hard work, leadership and support."