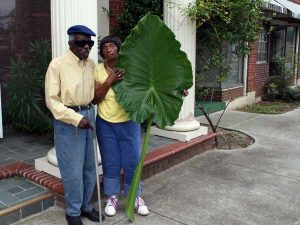 Deacon Tommy Williams and his wife Barbara Williams of 378 Long Cane Rd. in Edgefield County came by The Advertiser office to show a gigantic elephant ear that they grew.  They enjoy gardening and have other plants and flowers.
However, they did not know the name of this large plant and were asking for information.  They left their phone number for publishing so that someone who knew about the plant could call in.
The very next day, Carolyn Piekielniak dropped by to say she had heard about the Williamses seeking information and had some to offer.  She runs a nursery (Plants 'n Things) of her own out on Center Springs Rd. and she gave the following information.
The plant is called a "Colcasia" and is a hybrid of the elephant ear plant.  It is used on roofs in such places as Haiti and the Caribbean.  Ms. Piekielniak said that the bulbs are about the size of a coconut and sell for around $12.00 each.  The plant comes in three colors: chocolate/brown, a deep purple called black, and green (as photographed).