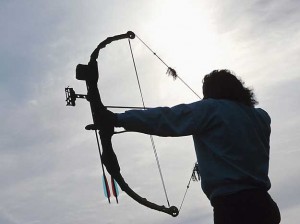 An incredible array of outdoor activities—all of them free—will be available at the Sixth Annual Upstate National Hunting and Fishing Day, "An Outdoor Family Adventure," from 9 a.m. to 3 p.m. Saturday, Sept. 29 at Duke Energy's World of Energy near Seneca.
National Hunting and Fishing Day will be celebrated in the Upstate this year thanks to the additional sponsorship of Duke Energy, Upstate Forever, Trout Unlimited, Clemson University Extension Service, the S.C. Department of Natural Resources (DNR), Clemson University 4-H Shooting Sports, Trout Unlimited, South Carolina Wildlife Federation, Harry Hampton Memorial Wildlife Fund, The Weatherby Foundation, Calm Water Kayak Tours in Ware Shoals and Outdoor Adventures in Clemson.
Participants can learn to kayak, practice shooting bows and arrows and test their fly-tying skills, in addition to many other hands-on activities. More than three dozen conservation agencies will also be available to discuss the responsibilities that come with protecting Upstate South Carolina's environment and sharing precious natural resources.
All activities and parking are completely free with a shuttle service provided from the event parking area off SC Highway 130. Guests can bring their own picnic lunches or purchase food from the on-site vendor.
For more information on the Sept. 29 Upstate National Hunting and Fishing Day, contact Duke Energy's World of Energy at 1-800-777-1004.
Hunting and angling together are an economic force worth $76 billion a year. A Congressional Sportsmen's Foundation report shows if hunters and anglers were a nation, their Gross Domestic Product would rank 57 out of 181 countries. About 1.6 million jobs depend on hunters and anglers. The economic impact of fishing, hunting and wildlife viewing in South Carolina is estimated at nearly $3.8 billion.