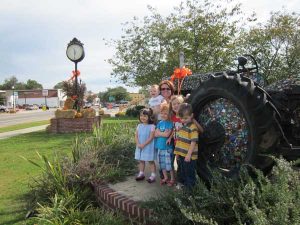 The Ridge Spring Harvest Festival is coming. On October 25, there will be a super Bingo night with at least 18 games and cards costing $10.00 each or two for $15.00 at the Civic Center. Hot dogs will be served beginning at 6:00 PM and Games at 7:00 PM. Friday there will be rides, vendors, and gospel night, and the important Cake and Pie Contest. Saturday will start with a parade, then to the car show, rides, live entertainment at the Gazebo, the country store, art show, vendors, arts and crafts, Bar-Be-Que and so much more. The evening will end with a street dance and fireworks.
The Harvest Festival has kept copies of the some of the past winners of the Pie and Cake contest sponsored by Bank's Drugs. This is the 31st year of the Festival. Here is the winner of the 1985 Contest for the Pie Contest Division.  Are you interested in participating?  Check out our web site at www.ridgespringsc.com  scroll to the Annual Events.  ENJOY!!!!!
1985 Contest Winner
Perfect Pecan Pie
3 tablespoons margarine
1 cup broken pecan meats
5 egg yolks
5 egg whites well beaten
1 cup sugar
vanilla to taste
1 cup white Karo syrup
* Use deep dish pie crust
Cream margarine, sugar and egg yolks.  Add syrup, vanilla and pecans and stir well.  Fold in egg whites.  Pour mixture into unbaked pastry shell and bake slowly at 325 degrees for one hour until custard like consistency.
Baked by Marie Asbill.
—
THE 31ST RIDGE SPRING HARVEST FESTIVAL
The Ridge Spring Harvest Festival is been going on for 30 years.  This will be the 31st year.  Themes for the past and today's Festival are here. How many do you remember?
YEAR         TITLE
1982   100 years of Progress
1983   Farming on the Ridge
1984   A time to Gather
1985   Something to Cackle About
1986   Reunion on the Ridge
1987   A community on the Moo-ve
1988   The Pride of the Ridge
1989   Timber on the Ridge
1990   A Salute to American Veterans
1991   Renew-Recycle-Releaf
1992   The Good Ole Days
1993   2 Good 2 be 4 Gotten
1994   Protecting the Ridge
1995   The Blue Ribbon of Service Award
1996   Good Times and Family Fun
1997   Rock, Roll and Remember
1998   Steppin in High Cotton
1999   Let's Go Nuts
2000   Fiesta on the Ridge
2001   Celebrating 20 Years of Festivals
2002   Horsin Around the Ridge
2003   Celebrate Small Town Living
2004   Small Town Living
2005   Celebrating Small Town Living
2006   Celebrating a Quarter Century
2007   No Brochure
2008   The Spirit of Small Town Living
2009   The Spirit of Small Town Living
2010   The Spirit of Small Town Living
2011   Reunion of the Ridge
2012   Farming, It is in our Roots