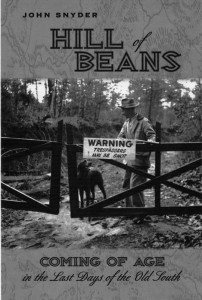 At the Discovery Center on Wednesday evening, November 7, at 7:30 p.m., author John Snyder, in his second visit to Edgefield, will read from his memoir, Hill of Beans, the rich, funny, and haunting story of his hardscrabble, Depression-era upbringing on Cedar Mountain, North Carolina, and in Greenville and Walhalla, South Carolina.  In precise and moving detail, Mr. Snyder recalls the personalities, the atmosphere, the tools and machinery of a childhood dominated by a flawed father and the resort hotel fire that changed their lives.  Local Edgefield readers have praised the book highly and recommend it to your attention
After growing up in North and South Carolina, Mr. Snyder attended the University of Chicago and moved to New York in 1959. Recently retired as an Executive Director of Morgan Stanley, he previously worked as a buyer at Bloomingdales and head of research for a carpet manufacturer.
Throughout his working career, he maintained a machine shop for making prototypes of inventions and turning found objects into remarkable and beautiful sculptures.